I'd like to preface this post by saying I have never had a massage in my life; or at least not a real one.
For years I have heard about these fantastic Thai massages that you can get for dirt cheap prices all over the country.  Well as it turns out, all of the legends were true, as every where you look you see all sorts of massages advertised for less than the price of a Big Mac back home.
Well yesterday morning I found myself with some time to kill, and decided to wander the streets near Khaosan Road and see if I could find an acceptable place to get my first massage.  I eventually wound up in a really cool side street behind my hotel, where I found one of the more lavish looking massage parlours (is that what you would call them? That sounds dirty…).  I spend a moment looking over their menu and a charming young Thai woman walks up and says "massage?".  I pause for a moment before settling on the half hour Thai massage for 90 baht (a little less than $3).  As much as I wanted to go for the full hour, I felt a little unprepared for that.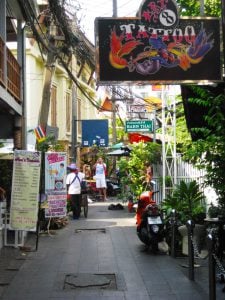 She walked me back to a wooden bench where I removed my sandals and placed my feet in a bucket of water.  At this point I am wondering if "Thai Massage" meant foot massage?  It was the first time since I arrived that I felt truly clueless.
It didn't take long for me to realize that she was merely washing my dirty, travel worn feet before proceeding with the main event.  After a quick rinse, she put me in a closet and motioned for me to drop my pants.
Didn't see that one coming.
I guess it's pretty obvious that I'm not going to get a massage fully clothed, but you still never quite know how to act when a Thai girl tells you to strip.  At that point she handed me a pair of traditional pants that seemed like a cross between a pair of capris and a hospital gown.  I really didn't know what to do with these.  Do I take my boxers off?  Do I tie it in the front or the back?  I'm confused.
She must have sensed my confusion as she walked in after a few minutes to offer help. Big mistake.  At that point she was met with a pants-less American who, still couldn't figure out how to tie his new Thai trousers.
Eventually I figured it out, well you know, more or less.  There is still debate as to whether or not you are supposed to tie them in the front or the back.  But at least now I had something covering my happy region.
She then walked me upstairs into a beautiful massage room complete with relaxing music and a nice breeze blowing in from the window.
Crap, do I take off my shirt?  If I do will that freak her out? Where's the instruction book on how to receive a massage??
I leave my shirt on, which I think may have been a mistake after she made a remark about how hot I must be.
Ok, we're finally ready to start the massage.  I lay down and she hops on my back.  Mom, I hope you don't straddle your clients when you work on them, as that would be quite awkward. (My mom is a massage therapist back home).
But this woman knew what she was doing.  She was digging fists, elbows and shoulders into my knot-ridden back, as I tried to relax.  Problem was, I still had so many thoughts running through my mind about the etiquette, that I was never able to fully enjoy what was happening to me.  I must say though, by the time she was done contorting my body in every direction imaginable, my body had less tension than I ever thought possible!
The experience was concluded by me redressing and drinking a cup of green tea in the garden.  As awkward and uncomfortable as I was, I could see myself getting used to a daily massage.  I'm even contemplating getting one of the "fish massages" that I've heard so much about.  There is one across the street from my hotel, so I may need to go check it out.
My flight is leaving for Krabi here in the next couple hours, and that is where I'll be for the next month or so. It's kind of amazing how much I have to write about.  The last few months I've been slightly less than inspired, and now I feel like the things I see just walking down the street are worthy of a post.
Anyway, I'm feeling a little tense, better go get a quick rub down before my flight!
If you enjoyed this post, be sure to sign up for email updates and RSS Feed!
Sean Ogle
Sean Ogle is the Founder of Location Rebel where he has spent the last 12+ years teaching people how to build online businesses that give them the freedom to do more of the things they like to do in life. When he's not in the coffee shops of Portland, or the beaches of Bali, he's probably sneaking into some other high-class establishment where he most certainly doesn't belong.
Learn How to Make Your First $1,000 Freelance Writing (in 30 Days or Less)
Join over 40,000 people who have taken our 6 part freelance writing course. Sign up below and let's do this together.
By entering your email address you agree to receive emails from Location Rebel. We'll respect your privacy and you can unsubscribe at any time.