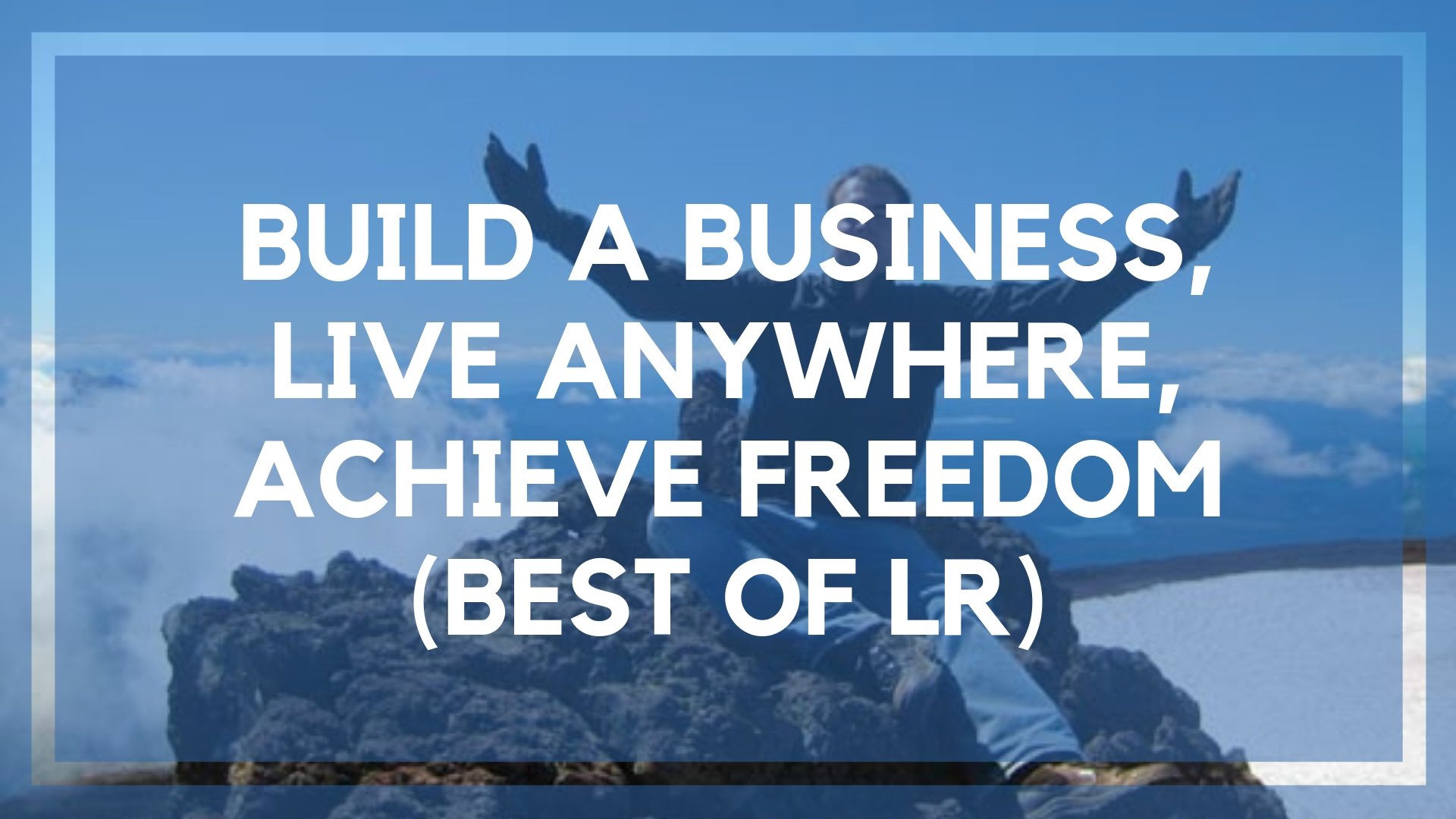 So recently I noticed that I've written 379 posts on Location Rebel over the last 4+ years.
Man, that's a lot of posts.
More than that, these posts represent the craziest 4 years of my life, and the entire path that's led me to a life of being a location independent entrepreneur.
One thing I've also realized is that if you're new here, or even if you've been around for a while, there's a lot of great stuff that you probably haven't ever seen.
The goal of this post is to change that.  I think it's important to do a little recap every once in a while so that we're all on the same page.
With that being said, let's jump into a quick background about me and who I am, and then I'll share some of the best and most useful posts in a variety of different categories.
Who is Sean Ogle?
Well, I am…but that probably doesn't mean a whole lot to you right now!
Four years ago I was working as a financial analyst in Portland, Oregon.  I had the kind of day job most people thought they wanted right out of college, and when I took the job, I figured I'd be there forever.
It didn't take long to realize that I wanted to spend my life doing something other than crunching numbers in a bland office all day.
I wanted to travel. I wanted to build my own business.  I wanted to golf a lot. I wanted to spend as much time as I wanted to spend time with my friends and family. I wanted to make more than $40k a year.
While working for someone else, I was at the mercy of them, and I wasn't able to make much progress on any of those goals.
So in late 2009, I left my job having no idea what was next.
This blog chronicles everything from before I left the job, to living in Thailand while trying to figure out this whole internet thing, and now my life as a successful entrepreneur.
The Location 180 (Now Location Rebel) Umbrella of Projects
Below we're going to dig deep into the archives, to give you the best stuff around entrepreneurship, travel, and lifestyle.  But the umbrella of projects I've got going on has evolved, and this isn't even close to everything – but it's a good start.
Location Rebel
This is the site that started it al, and has been my home base for my blog and various businesses.
Premium Products
Location Rebel – My flagship offering, and the very best community on the internet for building a lifestyle business.
Hacking the High Life – Want to create some unforgettable experiences, but don't want to break the bank? Hacking the High Life is for you.
Overcoming the Fear of Uncertainty – Know you're ready for change, but still afraid of what might happen? Overcome your fears, and get the foundation set to create the business and lifestyle you've been waiting for.
Other Businesses
HDR Software – My first niche site. All about HDR photography.
Breaking Eighty – My latest project, and one that I've been really excited about. What is it? The goal is to make it "a golf site that doesn't suck."
Social Media
Learn How to Make Your First $1,000 Freelance Writing (in 30 Days or Less)
Join over 40,000 people who have taken our 6 part freelance writing course. Sign up below and let's do this together.
By entering your email address you agree to receive emails from Location Rebel. We'll respect your privacy and you can unsubscribe at any time.
The "Clueless" Days
The biggest reason this blog has been so successful has been because you can follow me all the way from my "clueless" days where I didn't know what to do with my life, all the way to where I am now living life as a successful entrepreneur.
These are some of the posts I wrote in the first year of Location 180 that help to give you an idea of where I was at before I left my job and started my own business.
You can learn a lot by reading the first post of someone's blog. If you find someone you particularly resonate with, go check out their first post, you might be surprised by what you find.
Defining Goals of Seanogle.com
To be honest, I forgot all about this post.  It's crazy to see how far things have come.  The most important goal in here was to reach 1,000 devoted readers, and to look back and know that I've done that is a pretty cool feeling.
Accountability and a Comfortable Life
This was the post where I came to a very profound realization, that has shaped the entire foundation of my business.  I realized my life had become too comfortable, and if I didn't do something about it soon, I never would. Perhaps you're in a similar situation?
"Once you get past the fear of uncertainty, the rest is just an adventure."
I wrote that almost exactly four years ago. And I believe it now more than ever.
What to Do When You Don't Know What to Do
If this isn't the epitome of a quarter-life crisis I don't know what is.  In reality, I think I knew what to do, I just hadn't grown the balls to do something about it.
Finding the Courage to Go Through With It
This is the first post where I made it pretty clear what was about to happen. I'd already submitted my remote work proposal, and at this point was at the mercy of my boss. We all know how that turned out. And if you're new here, and don't. Well, I obviously don't work there anymore 🙂
Quitting Your Job
Once we got past the clueless days, we get to the part of the story where I actually left my job.  How it all went down is a long story, for another time, but if you're thinking about leaving your job, these are some posts written throughout the last four years that should give you a solid arsenal of strategies that you can build off of.
This was the post I wrote a few days after you guessed it, my last day. Even three and a half years later, this post is one of the most important on the site. Without it? None of this would exist.
6 Questions You Must Answer Before Leaving Your Job
I see so many people who hate their job, but the reason they don't leave is because of all the uncertainty surrounding it.  Answer these 6 questions, and you'll have a much clearer picture of whether or not you should leave your job.
What to Do Immediately After Quitting Your Job
Ok cool, so you've decided to do it! Great! I won't lie though, the first few days after leaving a long (or short) term position is a huge mess of emotions.  Literally, I probably felt every emotion possible during that time. I cried, I laughed a lot, and in the end, I knew it would be for the best, even if I wasn't totally sure where life would take me.
Why You're Failing at Quitting Your Job
There's also a good chance you've tried to quit your job. You've had the best of intentions for months, but you just haven't been able to pull the trigger.  This post is all about why that's happening.
The 13 Approaches to Quitting Your Job (Without Burning Bridges)
Now that you know why you haven't successfully quit, here are the 13 best approaches for making it happen.  But not only that, with (most) of these approaches, you'll leave on good terms with your employer, because who knows, they may even be your next client.
Lifestyle Business Essentials
When it comes down to it, Location 180 is all about how to build a lifestyle business.  This is the foundation for everything I do. It's what allows me to travel, support myself, and have the freedom to do what I want when I want.
The following posts will help form an outline for what you need to do in order to get started.
And if you're really serious about getting your new business off the ground, check out Location Rebel.
Why My Lifestyle Business Has Been So Successful
This was written over two years ago, when I was still relatively new to this whole entrepreneurship thing.  Needless to say, things have grown considerably since then. However, I think the income recap here is a really good representation of what can be possible in a short time if you commit yourself to your business.
The Five Most Essential Skills for Starting a Business Online
Step 1 of my process for building a business online is simple: Build the skills.  There are certain skills anyone wanting to start an online business needs to know.  This posts covers the basics and gives you a starting point for gaining traction.
10 Things You Can Do Today to Start a Lifestyle Business (Even if You Have No Ideas)
That about sums it up. I talk to people everyday who say "I just don't know how to get started".  No more excuses, here are 10 things you can do right now to start building a lifestyle business.
3 Critical Components to a Passive Income Business
"Passive Income" – this seems to be the holy grail for many people.  Reality? It doesn't exist.  Sure you can make money while you sleep, but what about the hundreds of hours you're putting in while you're awake in order to make that happen.
That being said, there are a few key things you need to keep in mind if this is the type of business you'd like to have.
How to Build Your First Online Asset in 48 Hours
Think of this as the practical guide to some of the stuff in the 10 ways to get started post above.  If you were to hire me for consulting I would walk you through this process as the very first thing.
It's not about the result at this point, it's about going through the process.  This is a huge first step to a successful lifestyle business empire.
The Easiest Lifestyle Business to Start Right This Second
Ok, you want to hit the road as quickly as possible, and want to be able to support yourself for a year in SE Asia? Just want to be able to stay at home and hang with the kids more? It won't be sexy, but this is the absolute easiest lifestyle business to start right this second.
Don't believe me? Just ask Kevin.
Lifestyle Business: Next Level
So you've got the basics down? You know how to setup a website, and you're ready to take it to the next level? Awesome, we've got some great intermediate level tutorials to help you make major changes in your life.
Two Simple Things You Can do Today to Make Finding Clients Dead Easy
There are really only two things I've done to find more clients whenever I need them, and they work amazingly well.  Read further to start finding clients for yourself.
Everything I've Learned About Email Marketing (And a Little Something Special)
As an online entrepreneur, your email list is the most powerful tool you've got.  Seriously. If you know how to provide value and sell to your email list, you'll never have trouble making enough money to get by.
I've learned a lot about email marketing over the years, and most of it is summed up in this tutorial.
How to Build a Niche Site That Brings in at Least $500 a Month
This has been one of my most popular posts this year. Why? Because I pulled put all the stops and went in depth on how to build a niche site.  I don't recommend doing this before building your skill set and finding some freelance work, but when you're ready, this roadmap should get you going down the right path.
How to Create a Killer List Building Offer (Even if You Have No Product to Sell)
When I made my first push to start building an email list for Location Rebel, the product didn't even exist though.  That didn't mean I couldn't create something with tons of value and get people primed and excited about the product for when it did come out.
How to Build a Membership Site in 48 Hours
The most popular post of all time on Location 180.  I walk you through every single step of how to create a membership site on a variety of platforms.
Blogging
It's no secret that I think starting a blog is one of the most important things you can do to not only build a business but to enrich your life.  I wouldn't be here today if it weren't for Location 180.
I wrote this in February of 2010 less than a year after starting this site.  It's easy to see that even after only a few months I was reaping the rewards of blogging.
Ok, so you've already got a blog, but maybe it hasn't gained the traction you want? People aren't signing up for your email list, no one is sharing the content, and the comments section is a ghost town?
Take an hour and use this audit to see where things can be improved.
How Much Info Should You Give Away for Free on Your Blog?
I get this question a lot. Many people believe you should save all of your best information for a premium product later on.  I don't completely agree with that.  Check out this post to see why I don't think you should be afraid of giving away the vast majority of your best stuff.
Doing the Stuff Most People Just Talk About Doing
The reason I started this site in the first place was to hold myself accountable for all the stuff I wanted to do in life.  That's why the bucket list has been such a staple on the site since day 1.
A while back I changed my twitter bio to "currently doing the stuff most people just talk about doing." I take that seriously. Any time I feel like I'm stagnating on that, I think back to my old life, and how I owe it to myself to keep pushing the boundaries.
How to Run a Marathon with (Almost) No Training
In 2011 I crossed an item off the list that I honestly never thought I'd do, I ran a marathon.  My goal after training was to run it in 5:30.  Well turns out training for a marathon is much harder than running it.  So without training, I ended up running it in 5:29:05.  Click above for the whole story.
Or you can just watch this video:
The first big thing I did after starting the blog was reaching my goal of climbing a mountain. Sure, it wasn't Everest or Kilimanjaro, but I felt pretty accomplished sitting at the top of that giant rock. Recap above, video below:
Speak in Front of a Large Audience
They say most people would rather die than speak in front of a large audience.  I'd never really given a speech or talked in front of a lot of people, so I wanted to see if I could do it.
I've now had that opportunity on a couple of occasions, but speaking at TEDxCMU was definitely a highlight from the past few years.
This is one I never thought I'd be able to cross off the list, and is still one of my favorite travel memories to date. If you have the opportunity to visit, take it, you won't regret it.
Travel and Adventure
A huge part of this site and lifestyle is all about travel and adventure. I usually travel for 3-4 months out of the year and I try and make it to at least 5 new countries every year as well.
Along with the post about leaving my job, the post where I announced I'd be moving to Thailand was another huge turning point and milestone.  Had I not taken that risk, I honestly believe I'd still be in another desk job.
How to Handle Any Stressful Travel Situation (And the Biggest Mistake I've Ever Made)
Earlier this year I made the only really major travel mistake I've ever made.  That being said, because of my outlook on life and travel it went from huge annoyance, to "part of the fun".
A couple years back I started doing an annual recap of the coolest offices I had throughout the year.  These are places where I actually sat in front of a computer or held some kind of business meeting.  It's always fun to look back at the places I've been able to work each year.
Here are the other ones as well:
Backpacking Through Europe – Without the Backpack
One of the first posts I ever wrote for the site, and still one of my favorite stories I've got.  After graduating in 2007, I took my first trip abroad. Unfortunately, the airline lost my bag, and it returned home 2 days before I got there.  Needless to say, it was a hell of an adventure.
A few other notable travel recaps:
Traveling to Jordan in 2012 – Jordan blew me away. Easily the biggest travel surprise I've had, as I loved it way more than I expected to.
Travel Video Blog – I try and shoot a lot of video when I travel.  You can check out the Location 180 video blog for some fun content, and a lot of stuff from when I lived in Bali in 2011.
A Few Short Travel Stories – In early 2013, I spent a month backpacking all over Asia. I hit 7 countries, but had some pretty hilarious stories in the process.
Location Independence
While I talk all about building a "lifestyle business" my specific niche within that is location independence, or businesses that you can run from anywhere on Earth, as long as you have an internet connection.
How to Work from Anywhere (While Not Falling Behind)
When you're traveling or outside of your normal routine, it can be next to impossible to be productive if you don't have a solid plan in place to get stuff done.  Here are some of the things I personally do in order to stay productive when I'm on the road.
Is it Really Possible to Work from Anywhere on Earth?
Inevitably, you're going to run into people who just don't get it. Why would you want to give up your comfortable life in order to build a business and have an even better lifestyle?! I don't always understand the people who look at things that way, but believe me, there's a lot of them.  In this we look at the question: Is it Really Possible to Work from Anywhere on Earth?
Entrepreneurial Struggles
Being an entrepreneur is one of the most rewarding things on the planet. However, while the highs are high, the lows can be just as low.  It's a constant battle, and no one is ever winning it 100% of the time.  Here's how I've dealt with some of the ups and downs of entrepreneurship.
7 Mistakes I've Personally Made as a Lifestyle Entrepreneur
I'm far from perfect, but I get real honest about some of my biggest mistakes I've made while working for myself.
Why Being in Maintenance Mode is Killing Your Business
Making forward progress can be difficult, especially when you've had enough success to simply maintain. This can be brutal, and it's so important to get out of this mindset if you've found yourself in it.
The One Thing that Kills Most Lifestyle Entrepreneurs Within Six Months
I see this problem all the time. People get extremely excited early on, try and do too much, and you know what the result is? They do nothing instead.
The Hardest Part of Blogging that You Never Expected
When you start a business or blog, you'll find that you pretty quickly get to know other people who are doing similar things as you.  For as much as you want to see them succeed, it can be tough if you see them moving faster than you, or having more success.  It's simply the truth.
What Did I Miss?
There you have it! Whether you're new to Location 180, or simply needed a little refresher of what we're all about, that should be the essentials of what you need to know.
Have questions? Want something else covered? Just want to say hi?  Awesome, I'd love to hear from you. You can get ahold of me here.
Sean Ogle
Sean Ogle is the Founder of Location Rebel where he has spent the last 12+ years teaching people how to build online businesses that give them the freedom to do more of the things they like to do in life. When he's not in the coffee shops of Portland, or the beaches of Bali, he's probably sneaking into some other high-class establishment where he most certainly doesn't belong.
Learn How to Make Your First $1,000 Freelance Writing (in 30 Days or Less)
Join over 40,000 people who have taken our 6 part freelance writing course. Sign up below and let's do this together.
By entering your email address you agree to receive emails from Location Rebel. We'll respect your privacy and you can unsubscribe at any time.