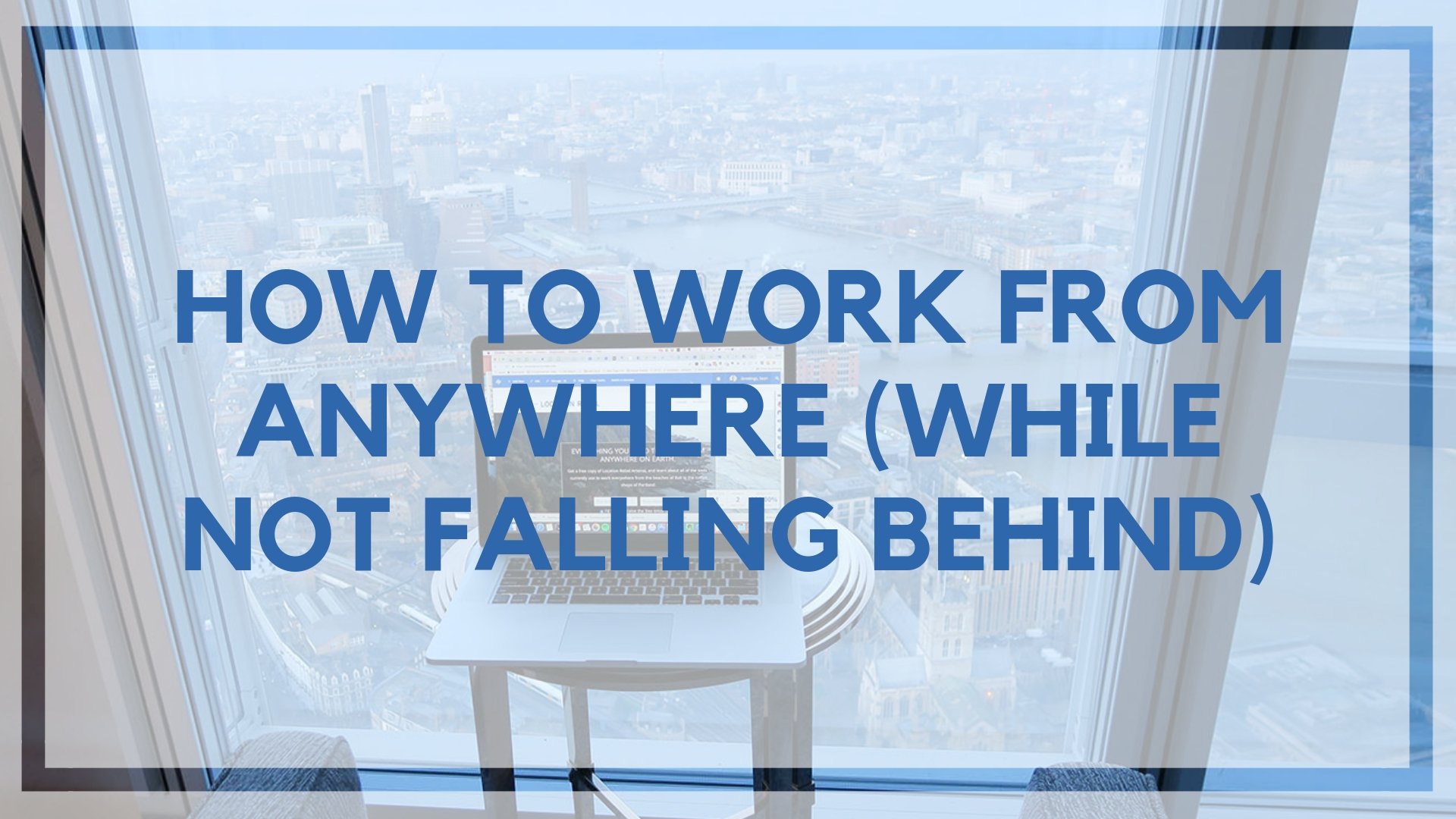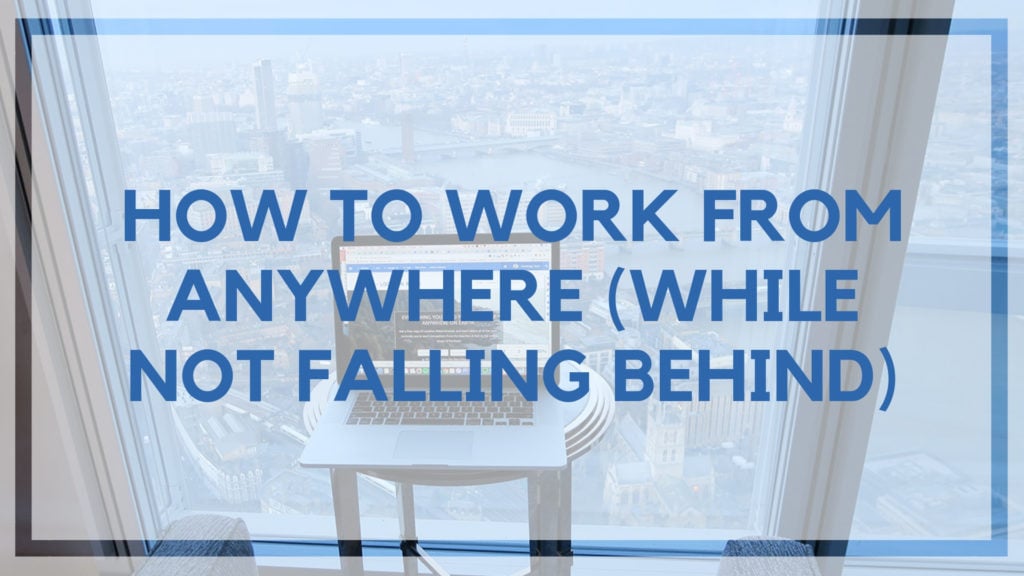 I still have a very vivid memory from my last trip to Thailand sitting in the back of a van from Surat Thani to Phuket.
There were about 13 of us crammed into 10 seats, and I was desperately needing to get some emails written after 3 days kicking it on Railay Beach.
I had my knees scrunched up to my head, my laptop awkwardly perched on top of them, and I was responding to my backlog of emails using Gmail offline.
Even if you've built a business online that you can theoretically run from anywhere, in practice it's easier said than done.
It doesn't matter if you're heading to a conference for a couple of days, taking a two week trip out of the country, or going completely nomadic and traveling around indefinitely – you'll undoubtedly run into productivity issues.
A Balanced Rebellion
If you're relatively new to working on the road, the hardest part will be the internal dilemma of whether or not you should be working.  When I first moved to Thailand in 2010, I'd never been to Asia before.  I spent the first month traveling around throughout the country, and while I knew this was make-it-or-break-it time for my life as an entrepreneur, I couldn't help but be drawn to, well, everything.
When you're in a new place, especially a place you may only be for a few days before moving on, you want to experience it all.  You want to meet people, see the sights, eat the food, and if you're still putting in 8-10 hours a day that doesn't leave a whole lot of room for being an actual traveler.
In time I figured out that while on the road (or anywhwere) it's not about working longer hours, its about doing more with the time you do have.
Luckily, this is easier to do when there's massive incentive.
Step #1: Create a Schedule and Stick to It
While you may not always know how a day is going to unfold (that's part of the adventure) you should know how your work day is going to evolve.
Pretty much any time I'm living abroad my work days usually look very similar.  I wake up go to a coffee shop and work for 4-5 hours.  I'll then head out for the afternoon, and if necessary do 1-2 hours of work at night before calling it quits.
This totally varies by day and activities, but that's the general schedule.
This works great while you're traveling due to the extra incentive.  If I know I'm going to a waterpark at noon and that I only have 4 hours to get all my work done for the day, I'll get it done.
Parkinson's Law is now your friend.  When you aren't on the road you'll extend whatever work you have into a full day.  Now you have incentive for getting it done, if you only have three hours, you'll make it happen.
Step #2: Don't Rely on Yourself
If you're traveling for awhile, one of the most dangerous things you can do is rely on yourself all the time to get stuff done.  Let's face it you are nothing but a lazy procrastinator.  Am I right? Yeah I am.
However all you need to be successful on the road is another lazy procrastinator.
Wait, what?
Yep.  If you pair yourself with someone else who is normally a slacker as well, more often than not you'll both get more work done than you would have on your own.  No one wants to admit to being the lazy one.  So if you have a friend or someone you can work with on a regular basis, you'll work harder because of it. Bonus points if you find someone who's not a lazy procrastinator.
This is even more effective if you put a timeline on it.  Agree that you are going to work from the cafe for two hours before heading out and doing something else.  This adds multiple layers of accountability, which helps you get more done.
When I used to work with a group of people at Third Place in Bangkok, we would all sit around a giant table and work.  I couldn't slack off if I wanted to.  And I didn't want to be the one with nothing to show for it when we went out for beers afterwards.
Step #3: Have the Right Tools
You need to prepare for everything when you're on the road.  You should never have an excuse for why you can't get work done in whatever down time you have.  Here are a few of the tools I find extremely valuable when on the road:
Gmail Offline: Talk about a game-changer.  Whether in the back of a crowded van, on an airplane, or simply at a cafe with crappy internet, I always make sure my Gmail is synced offline, so I can still plow through emails regardless of where I am or what I'm doing.
Mars Edit: I couldn't tell you how many time I've wanted to work on a blog post but couldn't due to lack of internet.  Mars Edit solves this problem.  This is an offline WordPress editor that allows you to do pretty much everything you need to get a blog post up and ready to go. You can even setup a template to match your blog's theme to ensure you know exactly how the final result is going to look.
Evernote: Anytime I used to have an idea, I'd just throw it in a Word doc.  I'd have dozens scattered throughout my hard drive.  Talk about a waste.  Evernote is the easiest way I know of to take notes, write drafts, and have it sync up to all my devices.
Computer with Good Battery Life: When I first started traveling I had an HP laptop with a battery life of about 30 minutes, on a good day.  Not so conducive to working from "anywhere".  Now I can get a solid 3 hours out of my Macbook Pro.  Here are some tips to boost your battery life when power isn't readily available.
Here's a list of other tools I use while I'm traveling.
Step #4: Create Clear Outcomes
I'm notorious for bouncing around from one project or task to the next.  It's awful, there are days that I'll make 20% progress on 10 different tasks – and while I got stuff done, when you work that way you feel as though you're just spinning your wheels.
Now, if you focus on your three most important tasks for the day, and get those to 100% you not only feel more accomplished but because you haven't left any loose ends lying out there you can go out and explore without having a bunch of partially done tasks hanging over your head.
Step #5: Don't Overwork
Something that happened to me at times in the early days of traveling was that I'd work too much. I'd spend 14 hours a day in front of my computer, and I wouldn't get a chance to actually experience all of the cool stuff that was around me.  Considering I was in Thailand for 7 months I didn't see nearly enough of the city of Bangkok or some of the surrounding countries.
This in and of itself led to feeling guilty about not taking the opportunity to see more.  Balance is absolutely essential.  You can achieve that by being serious about applying each of the steps we mentioned today.
Enjoying the Process
While it takes a specific type of person to be able to successfully build a business on the road, I wouldn't have it any other way.  Even on my vacation to Vegas last week, I'd spend a little bit of time each day checking in and making sure nothing had blown up.
It's this type of business that for me, adds value to vacations.  I never have to feel guilty about being gone or wondering what I'm missing.  I'm always in the loop, and I can make the choice of whether or not I want to work or not on any given day.
So have you worked while on the road? What's your best tip for remaining productive?
Sean Ogle
Sean Ogle is the Founder of Location Rebel where he has spent the last 12+ years teaching people how to build online businesses that give them the freedom to do more of the things they like to do in life. When he's not in the coffee shops of Portland, or the beaches of Bali, he's probably sneaking into some other high-class establishment where he most certainly doesn't belong.
Learn How to Make Your First $1,000 Freelance Writing (in 30 Days or Less)
Join over 40,000 people who have taken our 6 part freelance writing course. Sign up below and let's do this together.
By entering your email address you agree to receive emails from Location Rebel. We'll respect your privacy and you can unsubscribe at any time.