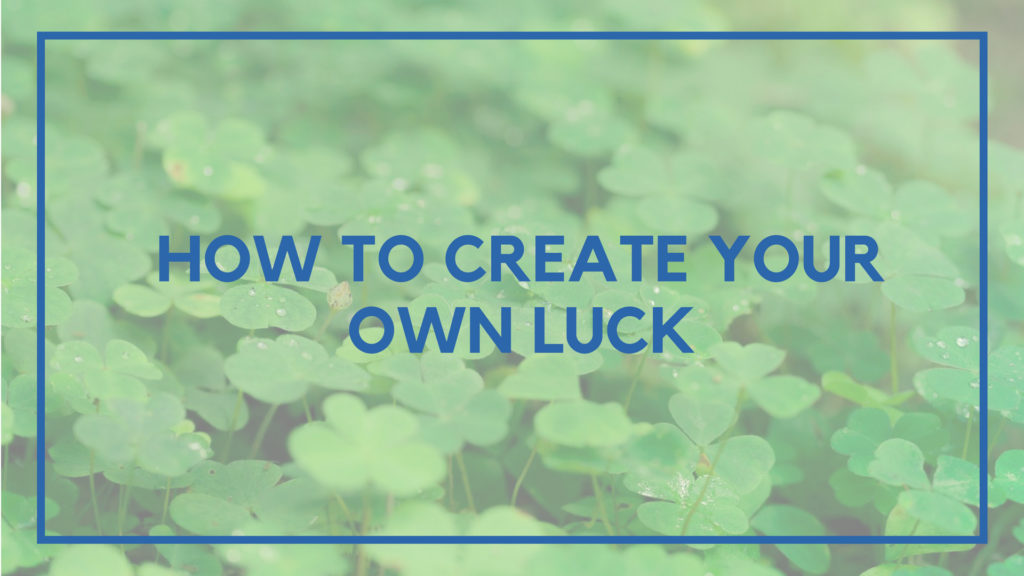 On a fairly regular basis, I get people telling me how lucky I am.
By all accounts, I am very fortunate to live this lifestyle.  If I'd found someone doing this while I was holed up in my cubicle, I'd probably call them lucky too.
All luck is not created equal, however. When people make remarks to me, they usually come in one or two different forms:
"Man, you're really lucky, I wish I could do that."
"The only reason you can do what you're doing is because you got lucky."
There's a very big distinction between those two statements. It's important to address the idea of luck when it comes to entrepreneurship, and on a more broad basis, the effect of luck on life in general. All too often people chalk up their own situation to their bad luck, or even worse to other's good luck.
Let's address statement number one. Those first people have simply prioritized other things in their life. Yes, I'm pretty lucky I get to do what I do.
But most of those people who are saying "I wish I could do that" – can in some capacity do something similar. It will just take a little persistence and sacrifice in other aspects of life. I don't own a car and frequently shun some of the creature comforts I used to take for granted.
Now, the people I really want to address are the ones who look at what I do and say the only reason I can do it is because I got "lucky".
Bottom line, I got extremely lucky – just like every other successful entrepreneur in the world.
You have to have a little luck in order to make it.  Maybe it's meeting a big investor, the right mentor, or any number of other game-changing breaks.
But here's the thing, while successful entrepreneurs are all lucky – they also share one other important trait: they created their own luck.
"Luck is when preparation meets opportunity" – Roman Philosopher, Seneca
Yes, a cheesy quote I know, but there's no better way to sum up entrepreneurship. If you're willing to work and put in the time to achieve whatever goal you're after, the opportunity will present itself – and when it does, most will give the pseudo-insulting response and say you got lucky.
But you know better.
You know luck isn't just manifested out of thin air, it's created. 
I'll illustrate this with a couple examples from my own life:
Working with Chris Guillebeau
I can't tell you how many people have said I was "lucky" for getting to work with Chris.
Am I? Of course I am.
But I spent months proving my commitment to making a life change before I got that offer. I followed through on everything I said I was going to do, right down to leaving my job. Only then, did I get offered the chance to work with him? I prepared for the life I wanted, and when the time was right opportunity came knocking.
Luck = Follow Through
Tropical MBA Internship
On a regular basis, people say I'm lucky for getting the first Tropical MBA internship.  It changed my life – I'm constantly reminding myself how lucky I was.  Were it not for 6 months of blogging, Dan would have had no idea who I was, and therefore wouldn't have contacted me about it.  I spent hundreds of hours writing and preparing myself for what would happen when I finally decided I wanted to live abroad.
Luck = Creation
Sidenote: Dan is now taking applications for the TMBA IX.  Maybe this is your opportunity to get "lucky".  But seriously, this will change someone's life.  The crew here in Bali is incredible, and I promise there's no better way to make the transition into lifestyle entrepreneurship.
90% of Luck is Showing Up
To be honest, most of my life I've been considered lucky.  I've often wondered if I've just been blessed or if there was something else.  The one thing I've been able to pinpoint when it comes to luck is that often times just showing up is what leads to getting lucky.
I remember I was in high school and there was a huge concert coming into town.  It had been sold out for weeks, all my friends were going, and I waited too long to buy tickets.  Many other people I knew decided to accept defeat and go to a movie.
About two hours before the show, I called the local radio station and asked if they were going to give away any more tickets.  They said they would just give me a pair if I could be down there in 30 minutes.
Done.
My friends were shocked when I showed up – but the only reason I was able to attend is because I showed up to begin with. I went one extra step that most people won't take and got "lucky".
I guarantee you have numerous examples of this in your life.  Now, take all of those lucky instances and apply the same principles on a broader scale.
Prepare yourself to live a life of luck.
Luck is entirely of your own making, and if you want to be lucky start putting yourself in situations to make it happen.  Consciously thinking about this will go a long way.  Take responsibility for what happens in your life, and stop making excuses based on your misfortune or other's successes.
I promise you'll be glad you did.
Have you seen Location Rebel Academy yet? Community members are killing it with their new businesses, and I'd love to see you doing the same thing! Check out the free Arsenal ebook and email me any questions about how you can get started.
Sean Ogle
Sean Ogle is the Founder of Location Rebel where he has spent the last 12+ years teaching people how to build online businesses that give them the freedom to do more of the things they like to do in life. When he's not in the coffee shops of Portland, or the beaches of Bali, he's probably sneaking into some other high-class establishment where he most certainly doesn't belong.
Learn How to Make Your First $1,000 Freelance Writing (in 30 Days or Less)
Join over 40,000 people who have taken our 6 part freelance writing course. Sign up below and let's do this together.
By entering your email address you agree to receive emails from Location Rebel. We'll respect your privacy and you can unsubscribe at any time.