I'll just come right out and say it if you're looking for the best email marketing software for your new small business, then ConvertKit is going to be your best choice.
If that's all you want to know, then look no further, and go signup for ConvertKit right now.
But my guess since you're reading this, is you're more diligent than that, and after all – you should be. Choosing an email marketing provider is one of the biggest investments you'll make in your business and it can be difficult to switch down the line, so you want to make sure you're choosing something that will serve your needs for a long time to come.
Having been a lifestyle entrepreneur and blogger for the last 10 years, I've used most of the different email providers at one point or another.
In this ConvertKit review, I'm going to go through everything you need to know. I'm going to give you a rundown of ConvertKit's features, what the user experience is like, compare it to it's biggest competitors and share a few things I think they still need to improve on.
So if you're ready for a definitive look at why ConvertKit is the best email marketing software for beginners, then let's jump right into it.
What is ConvertKit?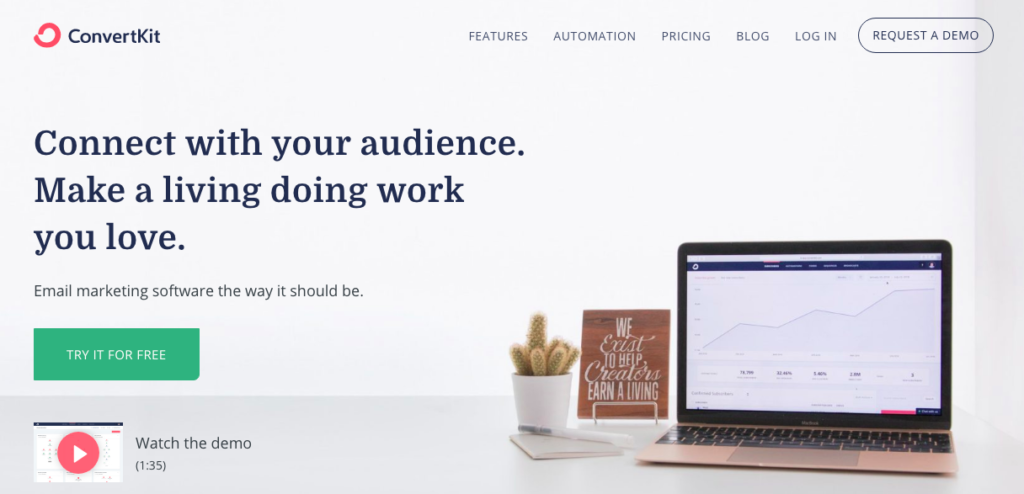 ConvertKit is an email service provider geared towards giving creators and small businesses email marketing and automation tools that are usually found in higher priced products.
It's geared specifically towards small businesses and creators who want their software to be easy enough to use that it doesn't get in the way of the more important elements of their business, yet robust enough that they're able to create automations and more advanced systems as their business grows.
My History with ConvertKit
I've used ConvertKit for my email marketing for a little over 4 years now, and it hasn't always been a smooth road.
I first moved over because the Founder, Nathan Barry was a friend – and I wanted to help support his new business.
(And because Aweber sucked…)
But it was still a new company and it had some growing pains. Specifically, I ran into some reliability issues during those first couple of years, and they didn't have some features their competitors had, yet were charging a similar price.
I considered moving to both Drip and ActiveCampaign at different points. I'll touch more on that below.
Over the last year, it's all come full circle though. I've made the very conscious decision to use ConvertKit for my business because I truly think it's the best option for where I'm at currently.
Hopefully, this gives my review and element of credibility. Despite knowing some of the people on the team, I'm a free agent. I'm going to use whichever tool makes the most sense for me, and with the improvements, ConvertKit has made over the last couple of years, and it's simplicity compared to other tools – it's the best fit currently.
Learn How to Make Your First $1,000 Freelance Writing (in 30 Days or Less)
Join over 40,000 people who have taken our 6 part freelance writing course. Sign up below and let's do this together.
By entering your email address you agree to receive emails from Location Rebel. We'll respect your privacy and you can unsubscribe at any time.
Email Marketing Software: Why You Need it For Your Business in 2020 and Beyond
If you're totally new to blogging and the internet, then you might be wondering why you even need email marketing software.
First off, if you want to be able to tell interested parties about your new blog posts, then you need to use an email tool that allows you to do that and conforms with internet privacy laws.
(No, you can't just BCC hundreds of people in your Gmail every time a new post goes live, that's called spam.)
ConvertKit is in my opinion, the most user-friendly, affordable, and reliable service for beginners to use to do this.
As you progress with your business ConvertKit will also allow you to set up automated sequences and systems, so that your business will begin working for you, even while you're not actively working on it.
Want to see how this works? Sign up for our free 6 part email course on starting a lifestyle business.
ConvertKit Features: What I Love About ConvertKit
One of the reasons I've stuck with ConvertKit is because of continuous improvement. They're constantly rolling out new features that are actually useful, and improving the reliability of the product.
So what are some of the features that I love about ConvertKit? Let me show you.
ConvertKit Uses Tags Rather than Lists
Back in the day, I used to use Aweber (oh how the mighty have fallen), and there was one very specific thing I hated about it.
They used lists rather than tags.
Meaning, let's say I have a list of people for my newsletter, a second list for Location Rebel Academy members, and another list for Hobby Hacking leads.
With their system, each subscriber was registered as a separate contact. So there was no easy way for me to see the entire user journey for any specific person. Worse than that, the same email address registered on multiple lists, was charged the same way – so one person on 3 lists was treated and billed as 3 separate people. Ridiculous.
In all fairness, they don't do things this way anymore, but it took far too long to make this switch.
Easily See Detailed Information About Any Subscriber
This leads me to another feature I like about ConverKit, the ability to see every action an individual subscriber has taken.
From their subscriber contact, I can see exactly what emails they've been sent, which ones they've opened, and which ones they've clicked.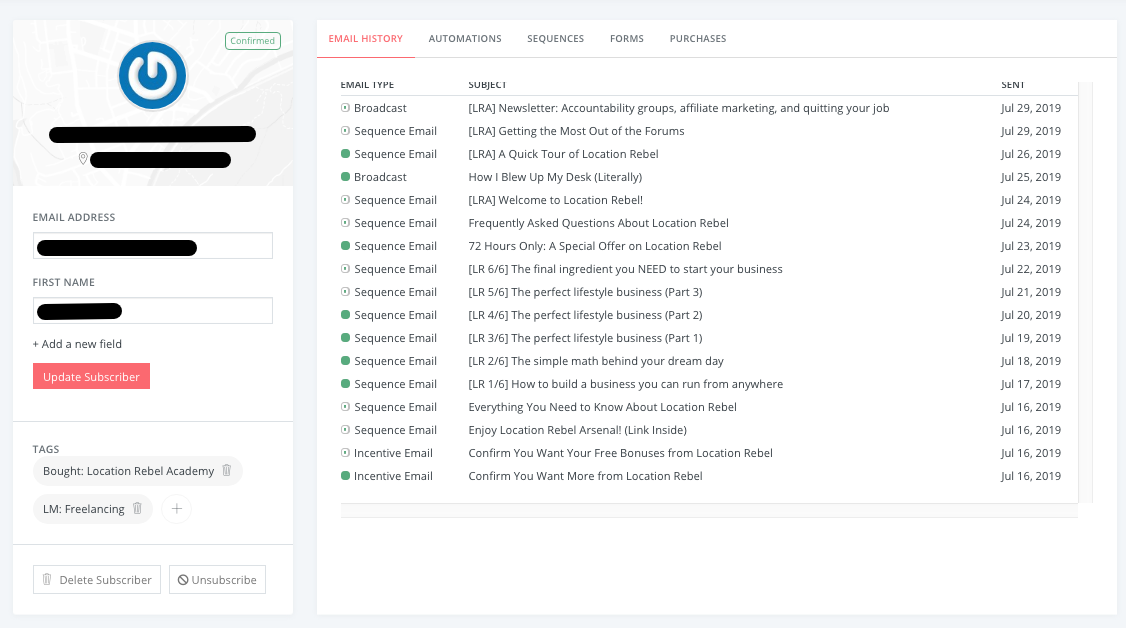 I can see tags associated with them, products they've bought, and more.
Now, it's not like you've got the time or need to look into every single subscriber's history, but this is really useful in a few ways:
It helps you troubleshoot. Want to make sure your emails and automations are triggering properly? Spot check a handful of subscribers to make sure everything is working as expected. And if it's not? This makes it very easy to see where the problem lies
Customer Service – If I get an email from a reader who missed an email, or has specific questions, being able to go into their specific contact to see what's going on is really helpful. On top of that, I can easily add new tags which trigger new sequences. So if I have someone who wants to learn more about niche sites, I can easily add them to our Hobby Hacking sequence.
Sales – If someone is considering joining the Academy or buying one of our products, I can quickly glance at what offers they've been sent and what information they've already received. That way I can make sure whatever I help them with isn't redundant and is based off of information they've already been given
Again, this isn't something unique to ConvertKit. But what is unique is the user-interface and the simplicity and ease of use behind it all.
ConvertKit Has Easy to Use Visual Automations
This was one of the features they lacked when I first moved over, but they've now perfected in the last couple of years.
If you're selling anything online, an email funnel is the most powerful way to sell it.
And visual automations make it really easy to create a sequence that ensures people are getting exactly what they signed up for.
Here are a few example funnels:

You can see various options that include a welcome email, a series of useful content emails, and a sales sequence.
Depending on which actions people take, the user will get different content.
You can have visual automations that are just one email long, or they can include dozens of different emails and different sequences (a sequence being a series of emails that serve a specific purpose).
Ability to Create Advanced Automations 
As you grow your business, you may get to a point where you want to get more advanced with your marketing.
When it comes to the really advanced custom stuff, ConvertKit is still a little behind their competitors.
But where they have the big leg up, is the fact that their basic automations are much more user-friendly.
That said, if you want to get your hands dirty it's still possible to do some of the truly advanced stuff.
Let's say you have an email sequence that you want to be 90% the same for everyone, but you want to add a bit of personalization.
You have 4 subscribers tags thanks to a survey you did of wants to travel, wants to work from home, hates their job, and wants to make more money.
You could start out an email like this:
Hey [Name],
Hope everything is going well so far! Now, I know how much you [INSERT PERSONALIZATION HERE], and freelance writing is the absolute best way to achieve that.
—
You could write one email, and if you wanted to dig into the Liquid Code, you could change that personalization line to whatever the person is tagged with:
I know how much you want to work from home, and freelance writing is the best way to do that…
I know how much you want to leave your job, and freelance writing is the best way to do that…
You get the idea.
This type of customization isn't quite as easy as it is with other services, but you can do it, and ConvertKit costs quite a bit less than those more advanced pieces of software that specialize in this stuff.
Built-in Landing Pages and Forms
When you're just starting your business, the last thing you want to do is have to buy another $40/month product for your opt-in forms, and then another one on top of that for your landing pages.
ConvertKit allows you to create both with all of their plans, and they just fully revamped their landing page tool to allow you to to create much more effective pages.
It Integrates with Just About Everything
But let's say you do want to integrate with one of those landing pages or opt-in services? Or a membership plugin, payment gateway, analytics software – the chances are good that ConvertKit integrates, as these days they work with just about everything.
Fantastic Support
Finally, the support I've received from ConvertKit has been second to none, and far better than just about any other online service I've used. It's clear that this company has been built from the ground up with a high regard for the customer and their time. Every person you interact with there generally seems to want to help, and this is very clear when you go to their support team with a question or need help
ConvertKit Pricing: How Much Does ConvertKit Cost?
So as with all email marketing services, how much it costs will depend on how many subscribers you have. If you're just starting out, it'll be $29/month for up to 1,000 subscribers – and then it goes up from there.
There are two specific things I like about ConvertKit's current pricing:
No matter what plan you're on, you can send unlimited emails
The features are the exact same for everyone.
So for the person just getting started with a smaller list, they can still get access to the more advanced features that someone with 100k people has.
In comparison, to get the most robust features Mailchimp has to offer, you're looking at a minimum of $299/month. I don't even pay that now with ConvertKit and I have a fairly sizable list.
ConvertKit vs Competitors: Is It Really the Best Choice?
So is ConvertKit actually the best email marketing software out there? For beginners, yes I believe it is. For the more advanced user? That might depend on what you need to use it for, but let's take a specific look at ConvertKit vs each of its competitors so you can get a sense of if it's the right fit for you.
ConvertKit vs MailChimp
ConvertKit vs. MailChimp. MailChimp is probably the biggest direct competitor to ConvertKit and is also a much bigger company. People are sometimes fooled by that cute little monkey and don't realize just how big MailChimp is.
Over the years I've used MailChimp quite a bit for various accounts or clients I've worked with, and personally? I just don't like it that much. I never found it particularly easy or enjoyable to use, despite being the most well-known service for beginners.
Also, as I mentioned above, I don't like that only the people paying $300+ a month get all of their features, and if you're at any level below that, you're not getting unlimited email sends.
I think they're smart to offer a free account (despite what must be a customer service nightmare) because you're getting people hooked into the system early.
But you aren't able to create autoresponders with that free account, which is one of the biggest reasons for creating an email list to begin with.
I think for most people starting out, that will be the biggest decision you make, do you I go with a free MailChimp account or bite the bullet and pay $29/month for ConvertKit?
I personally think ConvertKit is well worth it, and that having that $29/month fee will help you stay motivated and take your business more seriously.
ConvertKit vs ActiveCampaign
So right this second, if I were going to switch my list to a new email service, I'd go to ActiveCampaign. I've considered moving over there before, and who knows I still might in the future, but I wouldn't recommend this for most people.
First off, it's more expensive than ConvertKit. For me, on average it was going to be at least $100 more a month if I were to go right now, and that would increase as my list grows.
Having spent quite a bit of time in ActiveCampaign it's also not nearly as easy to use. It feels like there are 6 different ways to do everything and you're never quite sure which is the right one.
It's not nearly as intuitive as ConvertKit, which literally only takes a few minutes to understand.
That said, ActiveCampaign is quite a bit more powerful.
Their if/then automations are more robust, it has lead scoring built-in (ConvertKit can kind of do this if you hack through custom fields), and it has a CRM as well – which would actually be beneficial for the stuff I do with the Eighty Club.
Personally, I can deal with the learning curve and something that is less than user-friendly. But what I finally came to terms with after contemplating creating some funnels that are much more complicated, is that I don't think it's necessary at my business size.
Be authentic, teach useful information, and keep it simple – that is what is going to get me to the next level in my business. Once we're there? Then maybe it makes sense but until then. K.I.S.S. wins.
But if you're someone who needs those more advanced features and you really want to go all-in with segmentation and automation, then I frankly think ActiveCampaign is a very good choice.
You can sign up here.
ConvertKit vs Aweber
As I mentioned above, I used to have my email list with Aweber.
Here's the deal. Back in the day between say 2008-2014, Aweber was the player. They were way bigger than everyone, and most people I know used them for their blogs.
Because of this they got complacent, overcharged, and took far too long to actually improve their product.
So for those reasons, I've written them off.
I think they probably are better than they were before, but I also believe the ship has kind of sailed on them. There are other services out there that to more, are more nimble and more in touch with their customers, and I'm not sure there's a good reason to choose them these days.
But if you'd like to, you can check Aweber out here.
ConvertKit vs Drip
There was a period of time before I came full circle on ConvertKit where I considered switching to Drip. There was one specific funnel I wanted to create that really needed a few lead scoring features that both ActiveCampaign and Drip had, that ConvertKit didn't.
I was impressed by Drip's marketing and had a few friends who used it and generally liked it.
Then it all came crashing down.
After digging in more, I learned that it's not nearly as user-friendly as their branding would make it seem, features had been slow to be rolled out, and most importantly, their customer service was poor and slow to respond.
A couple of weeks after learning this, I found out they also doubled their prices overnight with hardly any warning to existing customers.
Yeah, that pissed a lot of people off.
It's fine, they're going upmarket and trying to focus more on e-commerce businesses, rather than bloggers.
And at now about double the price of ConvertKit, I don't believe it's worth considering unless you have a larger e-commerce based business.
What Don't I Like About ConvertKit?
As with all software, nothing is perfect, and ConvertKit is no exception.
While I've been impressed with how well they've done at responding to critiques over the years and rolling out new features, there are still a handful of things I'd like to see improved with ConvertKit.
First, I'd like to see Lead Scoring built-in.
This essentially just means I can put a value on an action that is taken. So if you open an email you get 5 points. Click a link? Get another 5 points? Visit the sales page? Get 10 points.
Then you can trigger specific actions based on each users' score. So maybe they don't get a sales pitch until they hit 100 points for instance.
Again if you want to get your hands dirty you can hack this using custom fields, but I'd love to see a more simple execution of this.
Second, Split Testing with ConvertKit Sucks
Currently, you can split test email headlines on Broadcast emails only. You can choose 2 different headlines, and it will send one variation to 15% each, and then 4 hours later send out the remaining 70% to the winning variation.
This is better than nothing, but there are a couple of big issues with this.
First off, when sending a broadcast email, timing is important. I want my emails to go out usually between 9 and 11 am. And I don't want to have 30% of my emails sent at say 6 am or 70% of them then sent at 2 pm.
Timing also affects a lot of things, so what gets opened at 10, might have a different result in the afternoon.
The second (and more important) issue is the lack of split testing on sequences.
My open rates on my education and sales sequences are far more important than if I'm just emailing a broadcast about a new video or blog post.
These sequences are the staple of my business, and right now there's no easy way to test different emails or headlines within those emails.
I'm not sure why this is, as it seems like a huge oversight.
Third, More Customization of Landing Pages

It's great that ConvertKit has overhauled their landing pages, as for years, they were basically unusable.
Now they're better, with a few dozen professionally designed templates to choose from.
The problem is, there isn't a ton of customization you can do on them. You're kind of locked into the layout they give you. I know they're working on this, but it's just going to take time.
Which, let's be clear, this is totally fine for people just starting out. Honestly, if you're reading this, the lack of customization probably isn't an issue for you.
But for me, until I can get some more customization, I'll need to continue paying for LeadPages.
So, Should You Use ConvertKit in 2020?
That's the question of the day, should you use ConvertKit for your business?
Obviously, I think the answer is yes. It's what I currently use for my business, and I think it's the best combination of value, ease of use, and deliverability of any service out there.
If you're a more advanced marketer I think ConvertKit can still work well for you, but you might also consider ActiveCampaign.
But for me, I think those are the two email marketing platforms worth considering in 2019.
ConvertKit Affiliate Program
There's a large portion of our readers that found Location Rebel through our content on affiliate marketing. It's worth noting that the ConvertKit affiliate program is very good, and if you end up using the software and liking it, it's worth checking out and possibly joining the affiliate program.
Also, there are affiliate links used throughout this post, and if you sign up for some of the services listed above I earn a small commission at absolutely no extra cost to you.
Want to see some of my ConvertKit emails in action? Sign up for our free 6 day course on starting a lifestyle business.
Sean Ogle
Sean Ogle is the Founder of Location Rebel where he has spent the last 12+ years teaching people how to build online businesses that give them the freedom to do more of the things they like to do in life. When he's not in the coffee shops of Portland, or the beaches of Bali, he's probably sneaking into some other high-class establishment where he most certainly doesn't belong.
Learn How to Make Your First $1,000 Freelance Writing (in 30 Days or Less)
Join over 40,000 people who have taken our 6 part freelance writing course. Sign up below and let's do this together.
By entering your email address you agree to receive emails from Location Rebel. We'll respect your privacy and you can unsubscribe at any time.