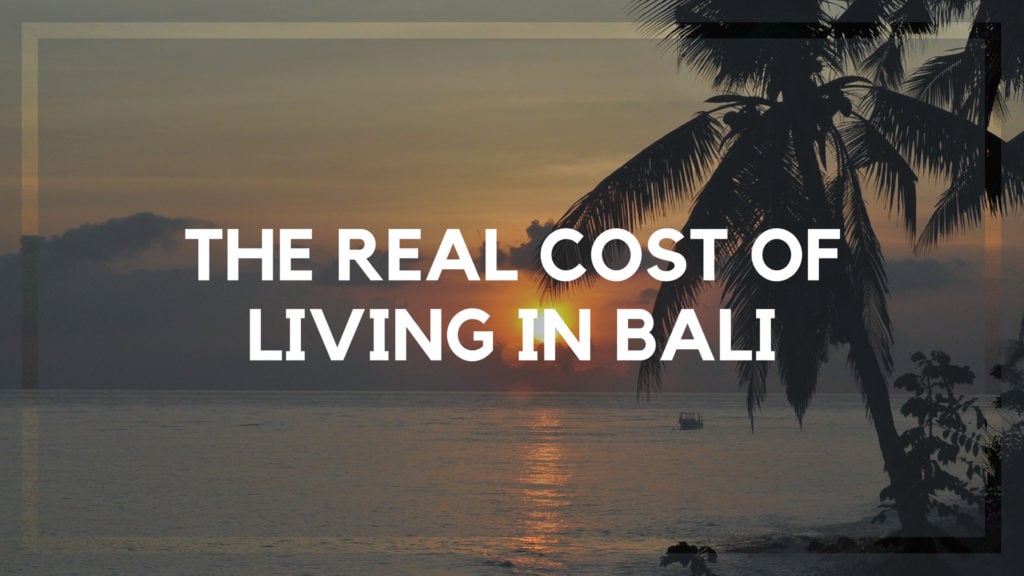 One of the greatest things about living in Bali is that it's so diverse economically. To this point, I've written a fair amount (and will write more soon) about the two sides of paradise.
Bali, like many places in Asia, can be dirt cheap or extraordinarily expensive – personally, that's what I love about it.
I can go hang out at Potatohead and live it up one night, and the next head to Warung Murah for a local feast that costs all of 22,000rph (a little over $2).
Along with the video equipment I've been using, the other question I've been answering a lot is this:
Just how much does it cost to live in Bali?
Rather than continuing to send out emails answering the question, I figured I'd put together a post that details just how much it costs to live in/travel to Bali both on a backpacker's and a baller's budget.
If you have any questions about how much a specific item costs, just leave a comment, and I'll do my best to get you an answer.
Also to note, I'm living in Seminyak which is kind of like the Beverly Hills of Bali, so some of my costs might be a little bit higher than average.
Accommodation
This is obviously going to be the biggest living expense for most people traveling here.  This is also one of the tougher questions to answer because everyone's standard of living is so different.  I'm lucky in the sense that I'm (almost) just as happy in a cheap bungalow as I am in a 5 start resort, so I tend to mix it up quite a bit depending on the nature of what I'm doing.
Low End:
Short Term: $15-50/night.  Long Term: $150-200/month
In Bali, there's quite the abundance of cheap accommodations, usually targeted directly at surfers.  The Kuta area in general is ripe with opportunities for cheap accommodations, and if you're willing to get outside of the tourist areas, then there are even more opportunities for cheap rooms. You can usually negotiate about 50% off the going rate if you're willing to rent by the month.  So if you wanted super cheap accommodations, that would probably include cold shower and no A/C, you're looking at around $150-200/month.
Keep in mind when going the super budget route, the rooms are going to generally be pretty bad.  We stayed in some $15/night rooms last year in Kuta that were up there with the worst I've ever experienced.
Mid-Range:
Short Term: $50-200/night. Long Term: $400-800
There are a ton of mid range accommodations in Bali both for short and long term stay.  This is probably where most people are going to fall when they visit here.  These rooms will almost always include AC, a decent location, comfortable bed, free breakfast, and usually the option for wifi.  The Island Hotel is a good example of mid-range accommodation if you're a flashpacker.
If you're looking to do a mid-range vacation you can find rooms at the gorgeous Pan Pacific Nirwana for about $150/night.
For longer term stays, I've been quoted at about $500/month for a nice furnished apartment, in a nice complex in Seminyak.  So if you're willing to spend that much on a monthly basis you're going to be in really good shape.
High End:
As much as you want to spend.
Seriously, Bali probably has more high end hotel rooms and villas than any place on Earth.  The starting rate for a truly luxury accommodation starts around $250, but that gets up to $1,000/night very quickly, and if you want a big private villa you could be well over that.
The house I'm spending most of my time in is a big 4 bedroom/4 bath place with a beautiful pool and Gazebo work area.  It's located in the heart of Seminyak a 3 minute motorbike ride the beach and is about $1500/month.  If you're willing to get outside of the main towns you can get a veritable palace for under $2k/month.
Food
One of the best things about Bali is that as long as you aren't at a fancy resort, food can be CHEAP (and delicious).
Low End: $1.50 to $5.00 per meal
80% of my meals fall into this category, mostly due to the fact it's not necessary to spend more.  At Warung Murah (translated to cheap food stall) I can get noodles, 3 lemongrass chicken, green beans, 5 chicken satays, and a chicken spring roll for about $2.25 – not to mention it's very high quality.
Breakfast at Warung Ocha is just as good of a deal.  My two staples look like this:
Healthy Breakfast: Egg white omelette with mushrooms and tomatoes, 2 slices of whole grain toast, mango juice, and yogurt with fruit and granola: $2.75.
Breakfast La Ocha: Two scrambled eggs, two cooked tomatoes, mushrooms, bacon, mango juice, 2 slices of toast, long black coffee (2 shots expresso/water): $3.75.
Can't go wrong with that.  Almost every meal is less than 5 bucks, and the quality is generally great.  Things aren't quite as cheap as Thailand, but still very affordable.
Mid Range:
$5.00 to $10.00 per meal
These meals are generally reserved for when we want something a little bit different.  There are a few pizza places that have pizzas in the $4.50 to $6.00 range, and this is probably the mid-range meal I have the most.  There are also a few other breakfast options where I can get food and coffee for around $6-7.  The quality isn't necessarily any better than the cheaper places, but usually just used as a change of pace.
You can also find some really decent tourist spots in this price range.  At Rumours in Seminyak you're looking at $7 for a good steak, and a burger and fries is a paltry $3.50.  They also have really good drink specials, so it's not a bad spot for dinner and drinks if you're in the area.
High End:
$30/per person and up for dinner
There's certainly no shortage of high-end dining options in Bali.  For a three course meal at Merica that consisted of seared ahi, a delicious steak entre, and dessert, it was about $60 after tax and tip.
I'm checking out Hu'u next week ate at Breeze at the Samaya recently, which was probably the best meal I've had.  If you add alcohol into any of these meals they can easily set you back over $100/per person.  That said, the quality is on par with what you would find in high end establishments in any major city.
For a fancy breakfast you can get a full set meal at Ku De Ta for about $12.  Food still isn't any better than the cheap places, but having breakfast overlooking the beach isn't a bad way to get the day started.
If you haven't noticed when it comes to the high end of things, Bali isn't necessarily any cheaper than any other resort destination, and often it can be much more expensive.
Alcohol
While cheap food can be found with ease, finding cheap alcohol is much more difficult.  Spirits are taxed very heavily in Bali, and so finding an affordable cocktail isn't the easiest thing in the world.  A bottle of decent liquor for instance is usually about 3 times what you'd pay in the States – same goes for wine.  Who wants to pay $30 for a bottle of Jacob's Creek?
Low End:
$1.50 for a 12oz beer, $2.25 for a 22oz beer.
Bottom line, alcohol is expensive in Bali.  I drink Bin Tang (the local brew) almost exclusively. You can pick it up at the super market for the prices above, at any typical bar it will run you $2.50-$3.00 for a 12oz and $3-4 for a 22oz.
Cocktails are very difficult to find on a low end scale, but if you head to Rumours for happy hour you can get a good strawberry daquiri for about 4 bucks.
Mid Range:
Imported beer $4.00-$6.00, $6-8 for cocktails
If you head to some of the nicer places like Potatohead or the W Hotel you'll spend about $4.25 for a Bin Tang and usually around $6 for a Guinness or a Corona.  If you want cocktails, then you can go to a local bar and find a decent well cocktail for around $6.00.  For anything more you're looking at $6.50-8 per drink.  The beach bag bars in Seminyak are some of the best places to find this.
Cocktails are actually much more than I remember them being.  If you head into Kuta you can probably find some cheaper happy hour deals, but generally speaking, they're expensive where ever you go.
High End:
$8-12 for local or imported beer, and $8-18 per cocktail. 
I went down to Rock Bar at the Ayana hotel last week and after taxes and tip it was around $9 for a Bin Tang.  That was painful, but the view made it more than worth it.
Want a cocktail at any nicer resort? You're going to spend a lot of money; generally more than you'd spend at the nicest places in the states.  I had a manhattan at the W a little while back and it was $16. Luckily I got a 2 for 1 special, but regular prices are pretty astronomical.
Transportation
Generally speaking it's really easy to get around Bali.  My motorbike costs me $60 to rent for the month (and it's one of the nicest you can get).  To fill up the tank it's an exorbitant $1.50.  So getting around that way is, while dangerous, inexpensive.  Cabs are cheap as well.  The other night for a 15 minute drive from Seminyak to Kuta it was about $2.25.  A 45 minute drive (mostly due to traffic) from the airport is about $7-10, depending on your bargaining skills.
Other Misc. Costs
Obviously, I'm going to be missing a lot here, but this is just to give you an idea of what you might spend.  Here are some other things you might expect to pay for in Bali:
Visa on Arrival: $25
Airport Departure Fee: $16
Box of Cookies at minimart: $.70
High Speed Internet Connection: $150/month (basically as good as it gets)
Maid Service: $12.50 to have the ENTIRE villa cleaned
Average police bribe when stopped on motorbike: $2-5
For more information on the cost of living in Bali, check out this forum.
Let me know what questions you have about specific items and we'll find out for you!
Sean Ogle
Sean Ogle is the Founder of Location Rebel where he has spent the last 12+ years teaching people how to build online businesses that give them the freedom to do more of the things they like to do in life. When he's not in the coffee shops of Portland, or the beaches of Bali, he's probably sneaking into some other high-class establishment where he most certainly doesn't belong.
Learn How to Make Your First $1,000 Freelance Writing (in 30 Days or Less)
Join over 40,000 people who have taken our 6 part freelance writing course. Sign up below and let's do this together.
By entering your email address you agree to receive emails from Location Rebel. We'll respect your privacy and you can unsubscribe at any time.