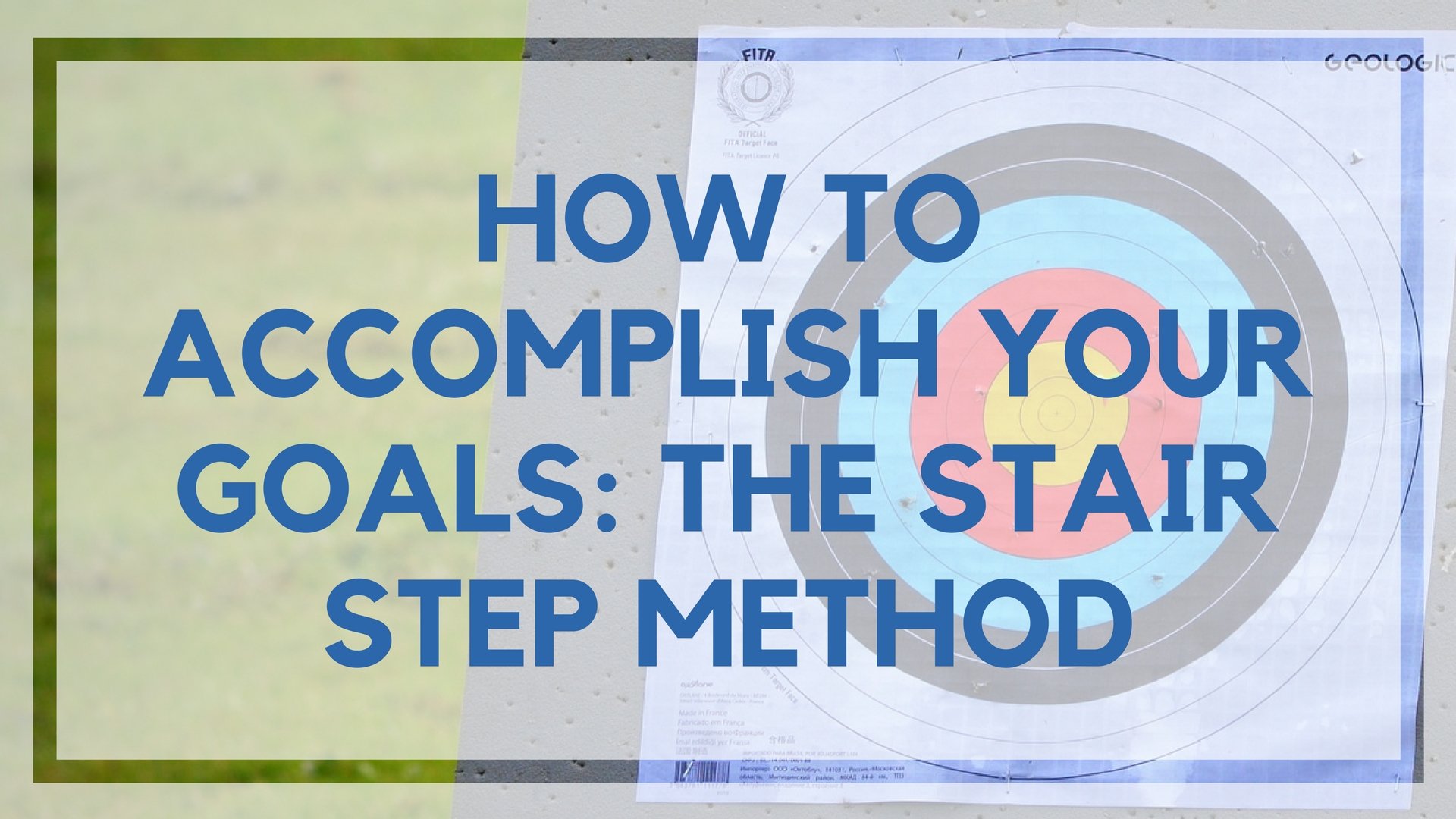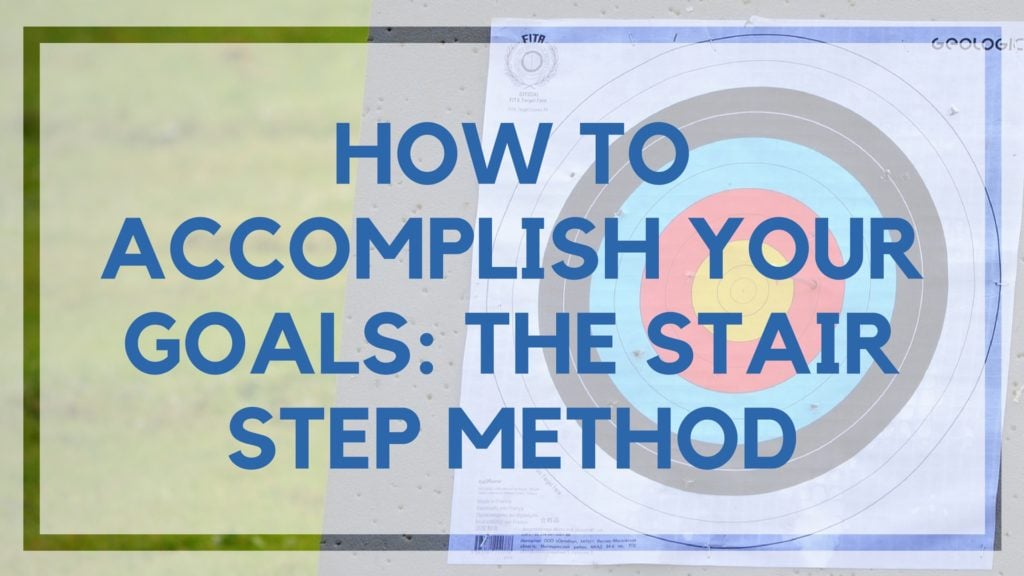 You know the saying "you can have anything you want, you just can't have everything you want?"
For the most part, I believe this.
If you all you want is to own a Ferrari, you can get there – actually relatively easily – but in order to do that you'll have to sacrifice something else.
But what if there's a lot you want to buy, achieve or experience in life? What if you don't want to necessarily have to choose either/or. 
Well, then hard work will become your best friend.
That said, over the last 8 years of working for myself I've found ways to get closer to the things I really want on a regular basis, that helps me live a more comfortable and enjoyable life – even if say, that Ferrari, maybe a decade or two away.
I call it the Stair Step Method of Goal Setting.
I first talked about it in my birthday post last year. I got a lot of emails about that post, but it was the Stair Step Method that I got the most questions about – so I wanted to elaborate on it today.
How does it work?
I'll get to that in just a minute, but first things first.
What Do You Want in Life?
The first thing you need to do is actually identify what it is you want in life.
I'm always shocked when I start emailing with readers and we get into their next steps, and I ask the question "in 5 years, what would you like to do, own, or experience?"
More often than not, the answer is "hmmm, I guess I'm not really sure."
Here's the deal, it's really tough to work towards something if you don't know what that something is.
There's no reason to start a blog, freelance business, social media account etc. if you don't know why you're doing it and truly have a purpose.
So this is step 1, put some thought into what you actually want in life.
Here are some prompts:
If money were no object….
Where would you like to live?
What kind of car would you like to drive?
What experiences would you like to have?
What experiences would you like your family to have?
What things would you like to do that you don't feel like you can do now?
This is the fun part. It's where you get to dream about what life could be like if you had all the time and money in the world.
Make a list, write things down, pull photos for inspiration.
And now?
Back to reality.
Newsflash: Like I mentioned in the quote at the beginning of this post, with a lot of work you can have any of those things. You just can't have every one of those things.
But that's what is so great about the stair step method of goal setting.
It's that you don't necessarily need to have all of them because often you can get 90% of the same enjoyment, value, or experience for far less money.
What Is The Stair Step Method for Accomplishing Your Goals?
The Stair Step Method is what I've been personally doing in my own life, to not only help motivate me to reach my goals but also to make the process itself much more comfortable and enjoyable.
It looks something like this: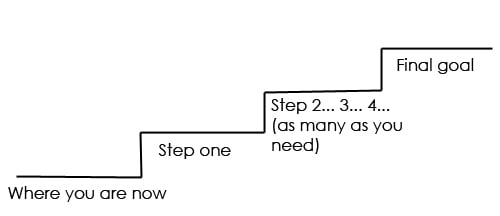 The way it works is it starts with some outlandish goal or dream. Then you work backward from there. Figure out what are the different milestones you can reach along the way that gives you a similar experience for less cost.
Using the Stair Step Method to the Watch of My Dreams
A great example for me is watches.
For years I've been into horology, the history of watchmaking. I have a few "grail watches" that are obscenely expensive, but one day I'd love to own.
The be all, end all for me, is a Black and White Rolex Daytona. It costs around $20k.
Now, I'm not sure I'll ever be able to justify spending that kind of money – but hey, that's the dream we're starting with.
Now, let's look at my evolution of watches so far.
In 2010, I bought a Fake Omega Speedmaster on the streets of Bangkok. Back when I had no money, a brand new business, and lived in a $200 a month apartment, seeing this watch on my wrist motivated me to work harder so that one day I could get the real thing.
This one cost me about $35.
2012: Tissot T-Touch
Two years later as the business grew a little bit, I purchased my first "real" watch.
It was a Tissot T-Touch that while it wasn't the mechanical, automatic movement I really wanted – it had some super cool features and again motivated me to want to continue growing my business, and having it on my wrist was a source of pride and confidence.
2015: Doxa Shark Dive Watch
One of my guilty pleasures is reading Clive Cussler adventure novels.
I dig into these every year since high school, and in almost every book, the protagonist Dirk Pitt had a Doxa Dive Watch.
So naturally, I always thought it would be cool to own one.
In 2015, I finally upgraded that Tissot to my first automatic, mechanical watch – this Doxa. It's simple, unique, and a bit more expensive than the others. Again, wearing it became a reminder to continue working hard.
2017: Real Omega Speedmaster Professional
Second to the Daytona, the watch I've always wanted was an Omega Speedmaster Professional.
It was the watch Buzz Aldrin wore on his moon walk, and because it's the only NASA Certified watch for all lunar missions, it became affectionately known as the "Moonwatch."
My grandpa had one that he passed down to my dad. I had the fake one in Bangkok. So for years, that's been a goal I've been striving for.
This month, I finally was able to invest in the real thing.
You can actually dig into the story of the Moonwatch, NASA, and Buzz Aldrin (trust me, it's worth it), right here.
See how it works?
Now, what's the point of me walking you through my history of watches?
It's that at every point in time, each of those timepieces provided me probably 99% of the same pride and enjoyment that Daytona would – and motivated me towards that ultimate goal.
The idea being, if you start small, and have a number of goals in between where you're at now and your ultimate dream, you'll still be able to get nearly the same amount of enjoyment and value throughout the years of progress.
You can basically make timelines for anything you want in life and begin working on them.
Another example is 5-star hotels, it might look like this:
Walk through the hotel –> Get a Cocktail at the Bar at the Hotel –> Do happy hour in their restaurant –> Stay in a cheaper place close by –> Use Rewards Points to Stay in the Hotel –> Stay in a Suite
In particular, there is one hotel that stands out to me. The Mandarin Oriental in Bangkok.
While I was living there, I literally had next to nothing and was very frugal (read: cheap).
Yet a handful of times, I'd go to Bamboo Bar at the Mandarin Oriental – one of the most expensive hotels in the city.
I'd order a single cocktail that was usually about $10, which I'd feel really guilty about.
I'd nurse that cocktail for two hours, get 3 or 4 refills on the free nuts, and I'd listen to some of the best jazz musicians in the city.
At that point in my life, just being there gave me much of the same benefit as staying there would have – and by surrounding myself with that thing I wanted, it motivated me to work towards that goal.
Months later I booked a room at one of the nicer hotels in the City that was still a fraction of what the rooms at the Mandarin cost, but it gave me a similar experience – and once again, provided motivation.
Then we used mile to book our honeymoon years later in the Maldives.
Now I'm still working to be able to have that kind of travel experience all the time – but you can see where stair stepping your goals, can lead to increased motivation and provide much of the same value during the process rather than having to wait for a big payoff at the end.
Make Your Own Stair Step Goals
So those are a couple of my stair stepped goals.
Think about some of the dreams you listed out earlier, now think of ways you can break those into 5-7 stair steps that can help give you much of the same enjoyment and benefit without necessarily having to go all in on the ultimate dream today.
If you're brave, share with us one of your "stair steps" in the comments below. This can apply to everything from work, to travel, to material items, to charity, to general experiences – literally anything.
I'd love to see what you come up with. Let me know your biggest stair step goal in the comments!

Sean Ogle
Sean Ogle is the Founder of Location Rebel where he has spent the last 12+ years teaching people how to build online businesses that give them the freedom to do more of the things they like to do in life. When he's not in the coffee shops of Portland, or the beaches of Bali, he's probably sneaking into some other high-class establishment where he most certainly doesn't belong.
Learn How to Make Your First $1,000 Freelance Writing (in 30 Days or Less)
Join over 40,000 people who have taken our 6 part freelance writing course. Sign up below and let's do this together.
By entering your email address you agree to receive emails from Location Rebel. We'll respect your privacy and you can unsubscribe at any time.