One of my favorite movies growing up was without a doubt Indiana Jones and the Last Crusade.  I mean how could you not like it? It had humor, action, adventure –  it's everything that you could want in a movie.
So when I found out that I'd be getting to go to Petra one of the first things that crossed my mind was, we've gotta find the holy grail!
Ok, that may be a little corny, but it was a lot of fun to wander the incredible city of Petra and pretend like I was Indiana Jones.
What Is Petra?
Before heading to Jordan I would generally get one of two responses when I told people that Petra was the thing I was looking forward to most about the trip:
That's AWESOME, so jealous you're going there.
What the heck is a Petra?
Well for those of you who don't know, Petra is one of the Seven Wonders of the New World and by far the largest tourist destination in Jordan.  Petra was founded in the 6th Century BC by the Nabataean people, which in and of itself isn't that exciting. So what is so remarkable about Petra?
As I guest of the Jordan Tourism Board, I visited Jordan for 6 days in mid-June.  While my trip and accommodations were sponsored, all opinions and photos are entirely my own.
The entire city was carved out of a freaking mountain.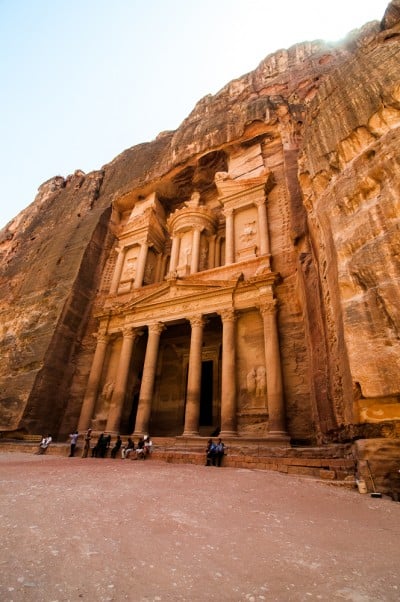 Seriously, it's unreal.
The night we arrived there, we had about an hour before "Petra by Night".  Originally were just going to crash, enjoy our dinner at the Movenpick and get some rest.  However it didn't take long before we realized we couldn't miss out on the experience, which I knew would be a photographers dream.
They do Petra by Night three times a week, and it takes about two hours to do the whole tour.  The most famous part of Petra, the Treasury is about a mile from the entrance to the park.  At 8:30pm they allow you to start walking down the path to the Siq (narrow canyon entrance to Petra), which then dumps you right out in front of the Treasury about a mile later.
What's so cool about this? The whole pathway is lit by candles.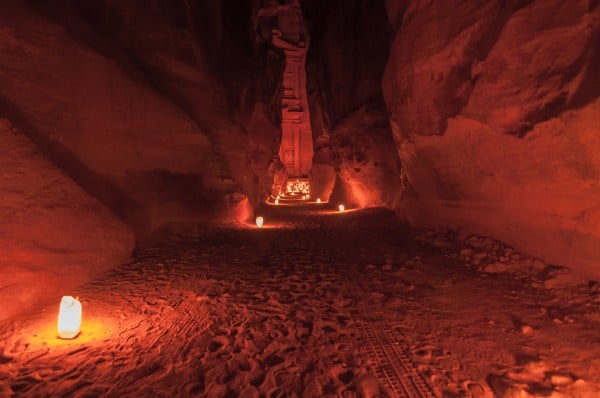 It gets even cooler after you arrive at your destination as Petra is illuminated by hundreds of candles at its base.  While the whole experience was pretty touristy, I'll never forget the feeling of coming out of the Siq to see the illuminated rock carvings in front of me.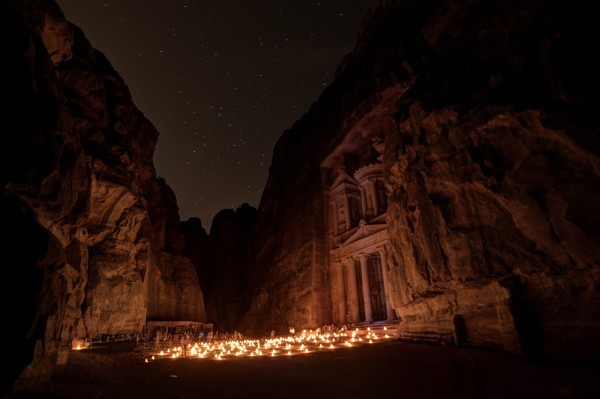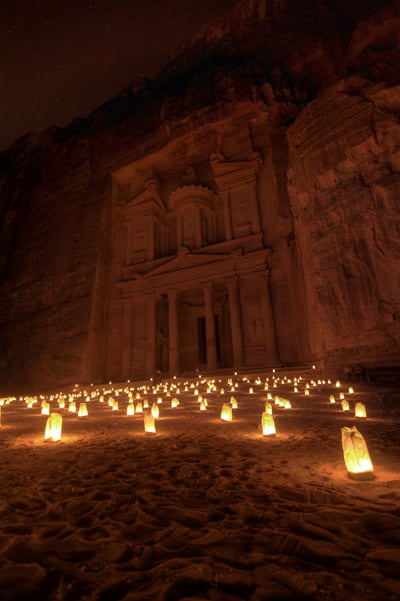 Petra by Day
The next day as we walked the same path back into the city, we realized just how much we missed while walking in the dark.  There were carvings everywhere you looked, and perhaps one of the coolest aspects of the city was the elaborate water and irrigation systems they had in place through the Siq that carried into the city itself.
Walking through the city you would see what looked like gutters lining both sides of the streets.  They were specifically designed to not only be able to store water coming in from flash floods, but they also had rudimentary filtering systems as well.
It was clear the Nabataeans were centuries ahead of their time when it came to engineering.
So, what's Petra really like anyways?
When most people think of Petra, they think about the Treasury.  In fact, at least half of the visitors to the site, walk the mile in to see it and then the mile back out and hop on their tour bus.
This is depressing to me.
Petra is an ENTIRE CITY OF STONE, PEOPLE.  It would take days to see it all, and it's a hiker s dream destination.
We were there for a full day and still only saw a sliver of what Petra had to offer.
Along with the Treasury, there was also an amphitheater that was still in remarkably good shape given the age: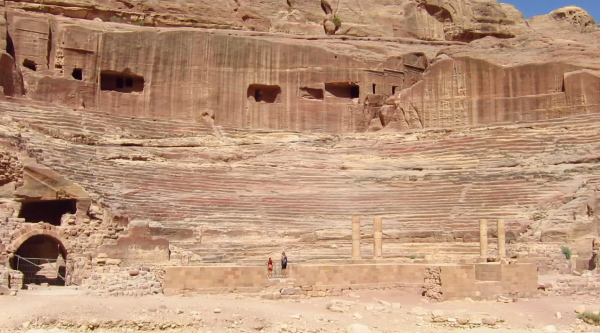 One thing I thought was really cool, that also illustrates their advances in engineering is that they built their buildings to withstand earthquakes.  The section of the park  below is currently being excavated by Brown University, where they learned that those horizontal lines you see running across the building were actually to keep it safe during earthquakes.
Pretty remarkable it's still standing thousands of years later:
And perhaps what was even more impressive than the Treasury, was the Monastery.
We didn't know much about the Monastery when we arrived.  In fact, our original plan didn't even include the 3 mile hike up to it.  However, it was without a doubt the highlight of our trip to Petra.
900 steps is what they say.  I don't know if it was actually 900 steps, but it was a ways up there.  Luckily there were some very friendly Bedouin people selling everything from grails to Gatorade all the way to the top.  Unfortunately, despite my best efforts, none of the grails led to immortality.
When we reached the top, we were a bit confused.  There was an open area that had some expansive views, but it looked like there were a couple little shops and that was it.
Well you know, until you turn the corner and this GIANT carving protruded out of the rock.
You see no one had mentioned (and we may not have done our research) that the Monestary was very similar to the Treasury, but BIGGER. It measured 50×50 meters and came out of nowhere.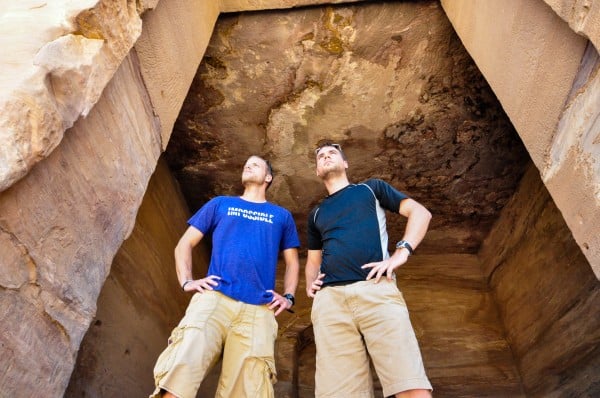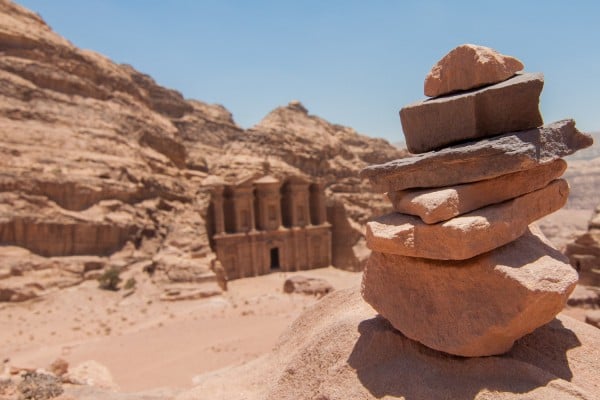 Immediately we knew we'd made a good choice.
I can't stress this enough, if you go to Petra, hike to the Monastery.  Not only is it much less crowded than the Treasury, but the surrounding view points are spectacular – on a clear day you can see both Saudi Arabia and the Dead Sea.
Is it Worth the Trek?
Jordan isn't exactly a short little jaunt away if you're in America.  So you might be asking yourself "Self, do I really want to fly all the way to Jordan to experience Petra first hand?"
I'm going to answer this for you:
Yes, yes you do.
Maybe not tomorrow, next week, or even next year, but Jordan should be on your short list of places to visit.  My photos and cheesy video certainly does not do Petra justice, and I'm looking forward to the day that I can go back and not only a few days there, but at many of the other places I stopped in Jordan as well.