Alright, to recap, these are the steps we're working on in getting your site up and running.
By now, you have:
Bought a domain
Get a hosting account. For less than $100 for your first year on Bluehost you can get a domain and hosting for unlimited sites (that's what we'll be using in the tutorial below).
Install WordPress. They make it super easy with a single click.
Does this still seem daunting?
Don't worry, it's much easier than it sounds and we're going to walk you through every single step, in excruciating detail – so you have no reason not to get going 🙂
Ready for this? Ok, settle in and let's get it going!
How to Setup a Site
Just want the broad strokes of the steps included? Watch this video:
Step #1: Go to Bluehost
Now that you've got those down, it's time to get this thing rolling and get your hosting plan setup. Head over to Bluehost to get started.
Why do I say Bluehost when there are hundreds of other hosts out there? Well, there are a lot of reasons.
I've used close to a dozen different hosts over the last 6 years for different websites. And for when you're just getting started, Bluehost has consistently impressed me the most with the combination of price, performance, and customer service.
That last one is a big deal because you will have a learning process to go through. Having solid customer support is extremely important, and I've spent hours on the phone with them over the years.
Note: If you have higher traffic site or want a little extra customization, I recommend WP Engine.
However, for 95% of people getting going, Bluehost is the way to go. Not to mention, they've been super cool and are hooking Location Rebel readers up with a special link, that makes this a total no brainer.
If you click this link and join you get in at $2.95/month for the first year, a great deal.When you get to the site, you should see: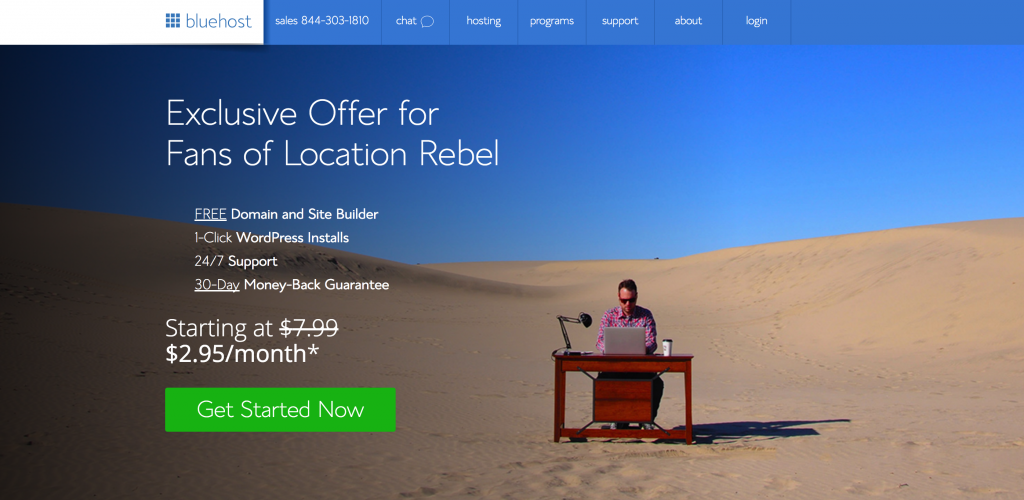 Step #2: Click "Get Started Now" and Choose Your Plan
It's pretty simple here.
If you think you're only going to need one site for the foreseeable future, just go with the starter plan.
However, if you think you might want to create a few different sites, then the "plus" level for under $70 for a year, is a no brainer.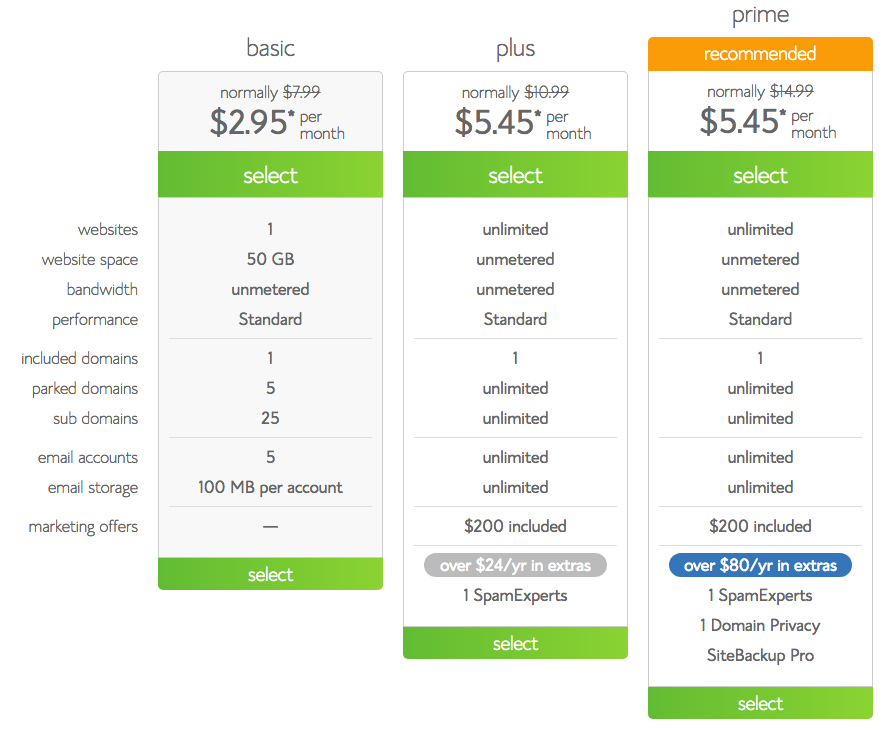 I generally recommend this for people who want a personal and are also looking to start a website for their freelancing services.
Step #3: Choose a Domain
On the next page, you'll be asked to pick a pricing plan. If you've already bought your domain name yet enter it into the box that says 'I have a domain name.'
On the next page, you'll be asked to create a new account and enter your payment info.
Once you've done that click submit. If you don't have a domain yet, then this is the fun part 🙂 A lot goes into a domain, but you shouldn't stress too much about it.
Remember, you can always buy a new one for about $10/year and if you have the unlimited plan you can set up as many sites as you want! Here are some basic recommendations for buying your first domain
Not sure what you want to do? Get a version of yourname.com. Even if you choose something else, it's always a good idea to secure a version of your name as well.
A .com is ideal, but it's not a deal breaker. Just try and stay away from top level domains that are strange (info, guru, or anything else that isn't a com, net, or org)
Try not to use dashes. And only use one at MOST. Example: nichesitebuilder.com is much better than niche-site-builder.com. Dashes lose trust.
Make sure it's easy to understand. For instance with seanogle.com – a lot of people at first were like, what's a "Sea Nogle." Look no further than this to see what I mean.
We recommend checking out Namecheap to see what URLs are available.
Let's say you've got your heart set on blendershop.com for your new site that's going to be about all the things you can do with blenders. But, you pop that into a domain service like Namecheap and discover it's not available.
You've got a few options to create some workable fixes:
Try adding a 's' at the end – blendershops.com
Try adding 'the' at the start – theblendershop.com
Consider other extensions, while .com is always the best, .co or .net aren't going to ruin your site – blendershop.co
Think about related terms, if none of the above work – blenderrecipes.com, theblenderchef.com, blendercentral.com, etc.
If you get stuck, one cool feature of Namecheap is they allow you to do a bulk domain name search. You can brainstorm a ton of ideas (if needed) at once.
Click on this link, and you'll be brought to that page. Select bulk, type in a bunch of ideas, anything that pops into your head, choose the extension you want (ideally a .com) and click enter.
Then you'll easily be able to see what options are available.
Remember the "sign up now" page from above? Well, if you need a new domain, then you enter the domain you want to use in the "new domain" box.
Click the 'next' button and you'll be asked to create an account and pay for your package.
Note that the longer you set the account plan for, the cheaper the monthly rate will be.
Also, when you're just starting out, you probably don't need many of the additional packages to start. Read through each and decide if they are right for you.
Once you've decided what you're going to go with, enter your credit card information and click 'submit.'
After you've done that, you'll be asked to create a password for your account. Don't forget this!
Bluehost will send you an email confirming your information. From there, log into your Bluehost account to get WordPress installed.
Step #4: Install WordPress
Bluehost has a one click install feature, so it's pretty simple, even if you have zero technical skills when it comes to websites.
First, go to the Website section and then select Install WordPress.
This is what we recommend.
There are also a couple of other options all of which are paid.
These vary from getting WordPress up and running with a credit for a theme, to a full install of pretty much everything you might need on your site to get it up and running.
You don't need to do any of these.
Learning how to do this process yourself will be a valuable skill as you continue growing your business online. So here we'll go with the free one click WordPress install.
On the next screen, you'll be asked to choose your domain.
The one you signed up with should be available from the drop-down. You can choose for your site to say www.yourdomain.com or just yourdomain.com.
Either will direct back to your site, but since URLs are cleaner and shorter without the www first, we recommend choosing that.
Leave the box where you see directory blank. Anything you write here will be included in your URL and you don't want that.
Click the 'next' button. Here, you can select your site name as well as a user name and password. Don't stick with Admin, it just makes things easier for hackers.
Click 'install,' wait a minute or two, and you've got WordPress up and running!
From now on, you can login to your Bluehost account right from the cpanel this is basically your dashboard where you'll be able to manage your site, billing information, etc.
This is what it looks like.
Step #5: Login to Your Site
WordPress has a few standard free themes ready to roll. And Bluehost will give you a few options to choose from as well.
If you're truly crunched for cash at the start, this will be fine.
But you don't want to rely on free themes for a long time. We recommend getting a premium theme up and running as soon as you can (which is covered in Step #7).
Once you're inside Bluehost and have picked a theme, you will be given the option to tweak your site.
Click "Start Building."
Here, you're likely going to want to choose personal. This will cover the vast majority of blogs versus business which tends to be more brick and mortar businesses.
All you have to do here is enter your site name and your site's tagline and click 'next step.'
This is what the 'back end' of your site looks like. To get your website officially launched click the blue 'launch' button.
Step #6: Explore the Back-end of Your Site
We could stop here, but I'd like to give you just a little bit more information to make sure you can get your site looking good, and keep you from making excuses on why you "still can't get started."
We'll break down each of the sections of your new site, so you'll have a better idea of what each one does. Every time you log in, you'll get sent to your dashboard.
Here again, you'll see the backend of your site. Once you've clicked launch button you're good to go. From here, Bluehost gives you some simple ways to immediately start creating posts and pages.
The most important part of this page is the navigation on the left-hand side of the dashboard.
This is where you'll do everything from write blog posts to view comments, and change the look and feel of your site.
As you install different plugins, you'll notice your dashboard will begin to have more items. Here, we're just going to cover the basics to get you started.
For a few quick tips, let's look at the most common links you're going to click here:
Posts: A list of your blog posts (you can create a new post here)
Pages: A list of all your website pages (you can create a new page here)
Media: An overview of your images/video library (you can add new media here)
Comments: An overview of all the comments on your blog
Links: A list of links you've added to your site or blogroll (you can pretty much ignore this)
Appearance: This is where you can tweak your theme, menus, and widgets plus do any changes to the CSS of your site
Plugins: A list of all the plugins you use on your site (you can add new ones here also)
Users: A list of all the users who have registered on your site, plus your profile (you can add new users here)
Settings: Here you can access many of the general settings of your site like the name, how comments are viewed, the date and time, how blog posts appear, etc.
These are the main menu links you're going to spend the most time using. It's a good idea to explore each of these on your own so you can get a better understanding of what they do.
In the next section, we'll continue the steps by getting a theme installed.