First up, you need to think about hosting. This is where your blog is going to 'live' online.
A lot of people go for the free option, however, that is a mistake. You're not going to be able to stick with it over the long run and you'll just have to get actual hosting anyway. So, we highly recommend against this option.
Below, you're going to learn a bit about hosting and why WordPress is such a valuable tool to help you get started.
Why is Good Web Hosting Important?
If you're building a business online or online asset, there are very few upfront expenses that you have to make – at least for the type of businesses we're advocating on this site.
That said, there's one area where it's worth spending a little bit of money: hosting.
Your hosting is the foundation for your entire business. If your hosting goes down, your entire business goes down. If it's too slow, people will look elsewhere. If it doesn't have the features you want, you'll get stressed and frustrated.
Because of all of these reasons, it's generally worth spending a little bit of time really figuring out which hosting service is right for you.
If you truly have a very limited budget, then the shared hosting solutions we talk about in this post will be fine – after all, that is what I personally had for years.
But read on, and really think about where you're at and what's right for you.
With that let's jump right into the most important question that's probably on your mind, what is the best hosting for your blog, and how do you know what to look for?
The Only Thing More Important than Web Hosting
So it's clear hosting is a really important component of your online business.  That said, there's one thing that I dare say is more important.
If you're just getting started online, this is the most important word for you to understand.
WordPress is a blog/content management platform that makes it incredibly easy to build and manage a good looking website. There's a huge support community, plugins that can do anything you want, and thousands of beautiful themes and templates.
When I first started online I built a site on Drupal, and then Joomla thinking they were the best platforms. I was an idiot. (If you're new, just ignore those terms altogether – you don't need to know anything about them).
Start whatever you're doing on WordPress and you'll be glad you did. Most hosting companies have one click WordPress install, as you can see in the picture below.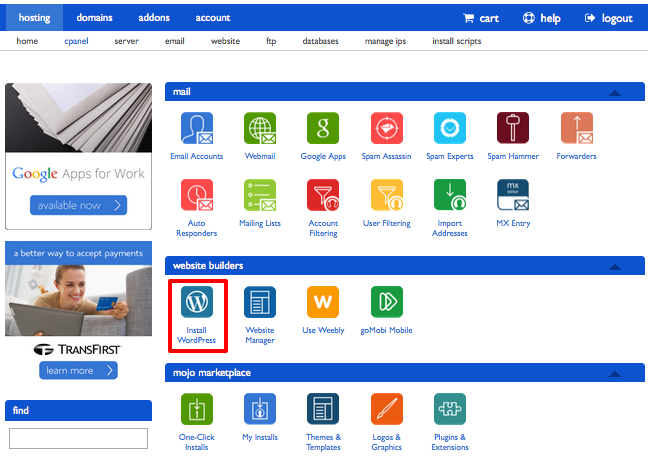 That makes it easier than ever to use WordPress.
Now that I got that out of my system, let's move onto the next step.
What Makes a Good Hosting Service?
There are so many factors that go into this, and things you can get confused by, so I'm going to make this as simple as I can for those of you who are just getting going.
Something you should realize is that most web hosting providers are all going to be relatively similar with the same features at the lower level.
Your natural inclination is going to be to go with the value option, something that is affordable, yet has some good features and offers plenty of customer service.
If that's what you want, go with Bluehost. It's affordable, and their customer service has always been fantastic (a very important thing if you're just starting out).
However, before we can look at exactly what hosting company to use, it's important to understand what the different types of hosting are. Let's take a look at your options.
Why You Don't Want Free Hosting
Let me tell you right now, you don't want free web hosting. Sites like Wix or Weebly, which offer "free online website builders," will give you zero flexibility, and pretty much make it impossible to actually run a business on your site.
Only use this if all you want to do is create a site that you'll never update about your uncontrollable love of poodles.
All jokes aside, the biggest reason why you want to avoid going free is you have no control. You might have a ton of awesome content up on your blog and then all of sudden one day its gone because you've accidentally posted something that's against the terms of service.
There goes your business, right down the drain.
In other words, don't even think about going this route, I promise you it's not worth it.