As most of you know, one of my biggest reasons for starting this blog is to hold myself accountable for accomplishing things on "My List".  I have realized that for being such a big part of my adventure, I have spent very little time talking about it.  The creation of this list has actually been on going for quite some time, and by the time I published it there had already been a few that were crossed off.  So this is an update on some of the things I have already done, as well as progress that I have made on new goals.
#1 Hang Glide Over Rio (Completed February 2009)
This is the one that almost didn't happen.  We had a reservation to throw ourselves off the cliff that was scheduled days in advance.  But as it turns out, organization isn't much of a consideration in Rio.  We were grouped in with about two dozen other people that wanted to fly and drawing the short straw straw when it came to who got to jump.  The guy in charge basically just said, "You are pretty much on your own, if any tandem pilots touch down on the beach, run up to them and see if they have any flights left".
At this point it was early in the afternoon and most of the pilots had already reached their 6 flight maximum for the day.  However, the Gods of Flight we're shining down upon us, as we found a guy that still had two available flights.  Thanks to him, I am able to show you this video of my friend Ryan going on the ride of his life (there was no one left to take the video when I went).
#20 Dance in the Rio Carnival Parade (Completed February 2009)
During my February trip to Brazil, we got the incredible opportunity to dress up like idiots and dance around in front of 65,000 screaming Brazilians.  And guess what? It was awesome.  Exhausting, but awesome!  I apologize for the poor quality video.  Cameras weren't allowed so you had to be a little sneaky.
#25 Visit Iguassu Falls in Brazil/Argentina (Completed February 2009)
My third Brazil goal that was accomplished was visiting the unbelievable Iguassu (Iguazu) Falls on the boarder of Brazil, Argentina, and Paraguay.  Seriously, one of single most impressive things I have ever seen.  As evidenced by the hundreds of pictures that were taken that day. Also check out Derek's video of Iguassu.
#9 Own my Own Business (Completed February 2005 and September 2007)
This one has actually happened a few times over.  In order to pay my way through college I started a business with a friend named "Three Fine Fellow House Painting".  There were actually only two of us, but three sounded better.
In a more recent venture, I became apart of Absinthe Notion clothing with my buddy Jamie.  He founded this company in early 2006 and when his other partner got busy and bailed, I came on board.  In late 2007 we, along with our third partner Poul, reinvented the company, and have been making sweet shirts ever since!  Be on the look out for a BIG sale and some new designs in the near future.
#19 Go Skydiving and #57 Bungee Jump (Completed June 2006)
The summer of 2006 was a good year.  The Oregon State Beavers won the College World Series, I worked outside all summer, took a few awesome trips, and got to cross two things off my to do list: Skydive and Bungee Jump.  I frequently get asked the question, which is better skydiving or bungee jumping?  I am going to go with bungee jumping.  The prospect of death is just so much closer when you are 200 feet up, rather than 12,000 feet.  When skydiving, the first 3 seconds are the scariest,  but once you are out of the plane, everything seems so far away that the sense of danger subsides for most of your free fall.  Well, until you have to pull the ripcord, and that begins a whole new set of worries!  Unfortunately, I was unable to get a video of me skydiving, but I do have a shot of one of my bungee jumps.  Note: Earlier this year the bungee broke at the place we went in SW Washington.  The guy didn't get seriously hurt, but still a little scary!
#32 Go see Dave Matthews Band at the Gorge Amphitheater (Completed August 2007)
Every Labor Day weekend thousands of North-westerners descend upon the Gorge Amphitheater in the middle of nowhere for three days to see Dave Matthews perform.  He has been doing these shows for over a decade, and each year it is one giant party full of good people and GREAT scenery.  This August will mark my third year going, and so far I have yet to be disappointed.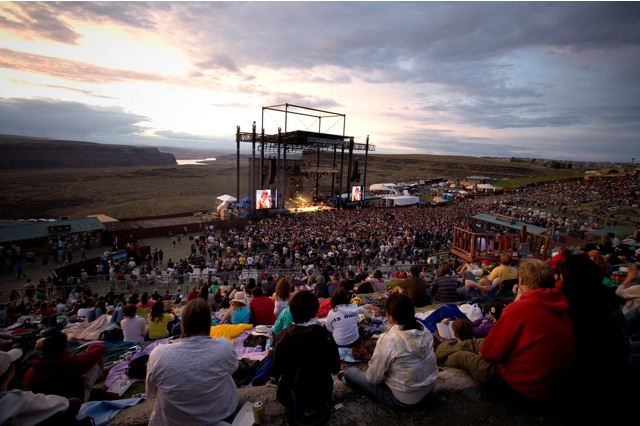 #53 Embarrass Myself in Front of a Bunch of People (Completed July 2009)
I imagine throughout my journey, this is one that will be accomplished over and over, but I think I can officially cross it off after an incident that occurred last week.  My girlfriend and I were enjoying a great late night happy hour at Bartini, full of cheap cocktails and fantastic fondue.  I still am not entirely sure what happened, but somehow I managed to knock the entire bowl of cheese out of its holder and on to the table, making a LOT of noise in the process.  The entire restaurant went silent, before awkward laughter broke out.  I smiled, waved and spent the rest of the evening trying not to draw any more attention to myself.  However, the best part about this was that I can now cross #53 off the list.
PROGRESS:
#8 Become Proficient at Photoshop:
This one has been expanded a little bit to encompass the entire Adobe Design Suite.  I would also like to learn the basics of Illustrator, Indesign and Dreamweaver.  After receiving an educational copy of CS4 I have been doing a few Lynda tutorials (thanks Colin for the suggestion) to try and grasp the basics.  You will probably be seeing my logo change periodically as I spend more time with Illustrator!
#10: Start a Successful Blog
With each week I am making more and more progress towards this goal, thanks to all of you!
#11: Make a Living Off My Own Business
I have been spending more and more time on personal ventures and figuring out how I am going to actually accomplish this goal.  This past weekend I tried following Glen from PluginID's affiliate marketing program.  If you are in the market for a product to teach you guitar, you should check out Jamorama! NOTE: This IS an affiliate link, don't feel any obligation to click or purchase anything!  I am doing the program as an experiment
There are a few others I have made progress on, but I will save those for the next update!  Thanks again for your continued support!  I am really excited about the growth of Location180 and it is all thanks to you!
—
Click photos for original location.
Sean Ogle
Sean Ogle is the Founder of Location Rebel where he has spent the last 12+ years teaching people how to build online businesses that give them the freedom to do more of the things they like to do in life. When he's not in the coffee shops of Portland, or the beaches of Bali, he's probably sneaking into some other high-class establishment where he most certainly doesn't belong.
Learn How to Make Your First $1,000 Freelance Writing (in 30 Days or Less)
Join over 40,000 people who have taken our 6 part freelance writing course. Sign up below and let's do this together.
By entering your email address you agree to receive emails from Location Rebel. We'll respect your privacy and you can unsubscribe at any time.